BT Soccer Opener Draws 515,000 Viewers, Puts Pressure on Sky
By and
Sky's soccer monopoly 'has been slowly seeping away': analyst

BT paid 960 million pounds to air Saturday night games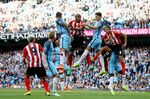 Some 515,000 people tuned in to BT Sport on Saturday evening to watch Manchester City beat Sunderland 2-1 in an English Premier League opener. BT Plc's margin was more robust -- it drew 39,500 more viewers than the Leicester City-Hull City game on Sky Plc's Sports channel earlier in the day.
The rivals' soccer broadcasts will be watched closely this season, because BT for the first time outbid Sky for the Premier League's popular late afternoon Saturday matches, which often draw bigger audiences compared with the 12:30 p.m. games. BT began showing top-tier U.K. soccer in 2013 and added a 960 million-pound ($1.24 billion), three-year package starting this season.
"BT has definitely come of age," said Ian Whittaker, an analyst at Liberum. "Football was always associated with Sky, but over time that idea has been slowly seeping away."
Sky still has the lion's share of TV rights for Premier League -- 126 this season, compared with 42 for BT. In addition to Saturday games, it shows matches on Sundays, Mondays and, for the first time, Fridays. The Arsenal-Liverpool game on Sunday afternoon attracted more than 2 million viewers at its peak, Sky said.

"It has been a great first weekend of the Premier League season for Sky and our customers," Sky Sports Managing Director Barney Francis said in a statement. "The unpredictability of the competition has continued and we've had a strong response from customers."
Unlike free broadcasters, which depend on large audiences to generate advertising revenue, pay-TV providers usually focus on subscriber numbers. Sky paid 4.2 billion pounds to renew its three-year deal with the Premier League, an increase of 83 percent, and the company is eager to show results.
"Even though Sky is still growing in terms of subscribers and revenues in the U.K. and Ireland, it's going to be a challenge managing this sizable increase in costs," said Tim Westcott, an analyst at IHS Technology.
As part of an effort to stem subscriber losses, BT has been adding sports programming, including the rights to UEFA Champions League and Europa League.