Russian Bombers Use Iranian Base to Attack Syrian Militants
By and
Strikes hit areas held by Islamic State and moderate forces

U.S. probing if strikes violate Security Council resolution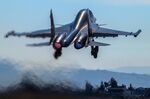 Russia acknowledged that its warplanes used an air base in Iran to bomb militants in Syria, drawing U.S. complaints that the move "was not helpful" in efforts to enact a cease-fire in the country's 5 1/2-year civil war.
Russian Tu-22M3 and Su-34 bombers flew from Iran's Hamadan base Tuesday to attack Islamic State and Nusra Front targets in Syria's Aleppo, Deir ez-Zor and Idlib provinces, the country's defense ministry said in an e-mailed statement. They returned to the base after completing their missions, according to the statement.

The bombers were supported by fighter jets from Syria's Hmeimeem base that Russia has used to carry out air strikes in support of President Bashar al-Assad since September.
Russia's announcement that it's using an Iranian base to carry out attacks signaled an escalation in President Vladimir Putin's efforts to bolster Assad and may complicate U.S.-Russian talks about working together to target the Islamic State in Syria. While the U.S. has repeatedly called for Assad's ouster, Russia and Iran are backing his military against opposition groups in the civil war, which has killed more than 280,000 people and displaced millions.
"Cooperation between Iran and Russia in fighting terrorism in Syria is strategic and we exchange potential and resources," said Ali Shamkhani, secretary of Iran's Supreme National Security Council, according to the official Islamic Republic News Agency. The "increased and constructive cooperation between Iran, Russia and Syria" will continue with "new and extensive operations" until militants are "annihilated," he said.
Russia notified the U.S.-led coalition in Iraq that its planes would fly over Iraqi territory en route to Syria, said Col. Christopher Garver, a spokesman for U.S. military operations in Iraq and Syria. U.S. State Department spokesman Mark Toner said the attacks fit a pattern where Russia claims to be targeting Islamic State forces but actually hit moderate groups seeking to defeat Assad -- including groups backed by the U.S.
"That only makes more difficult what is already a very contentious and complex and difficult situation," Toner said. "And it only pushes us further away from what we're trying to pursue, which is a credible nationwide cessation of hostilities and a political process in Geneva that leads to a peaceful transition."
"It's not helpful to the situation that we currently have," Toner said.
The U.S. is studying whether the attacks were a violation of U.N. Security Council Resolution 2231, which blocks the supply and transfer of combat aircraft to Iran unless approved in advance, Toner said.
Putin discussed the fight against terrorism with Iranian leader Hassan Rouhani when they met in Azerbaijan last week. Russian Defense Minister Sergei Shoigu and Iranian defense officials agreed on expanded military cooperation at talks in Moscow this month, according to the Izvestia daily.
Russia asked Iran and Iraq last week to allow cruise missiles to pass through their airspace, the Interfax news service reported Monday, citing an unidentified person with knowledge of the matter. Russian warships in the Caspian Sea fired 26 cruise missiles at targets in Syria in October, shortly after Putin ordered the military campaign to commence.
The Russians are using the Iranian base as a "symbolic gesture" to demonstrate to the U.S. that they're "carrying out their plans militarily," Rashad al-Kattan, a political and security risk analyst who's a fellow at the University of St. Andrews in Scotland, said from London. Russian and Iranian military cooperation shows the "cohesiveness of the Assad camp" in Syria and that they "won't give up" on the Syrian president, he said.
— With assistance by Ladane Nasseri
Before it's here, it's on the Bloomberg Terminal.
LEARN MORE