Praxair-Linde Deal Could Face Antitrust Fight on Two Fronts
by and
Tie-up would create largest supplier of industrial gases

Brazil seen as biggest hurdle with 60 percent market share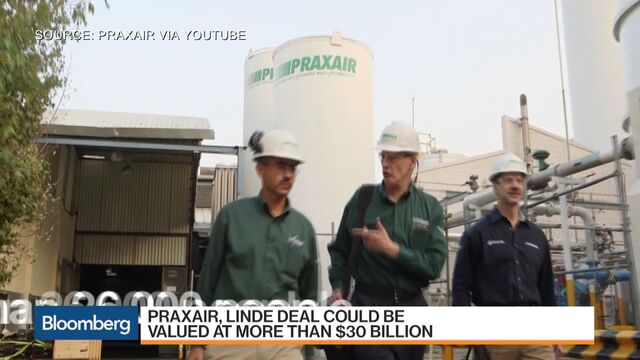 A merger of industrial gas makers Linde AG and Praxair Inc. would likely trigger antitrust reviews to protect competition in regional markets as well as broader scrutiny of global competition.
In discussing a tie-up valued at more than $30 billion, the companies have talked about potential divestitures to address antitrust concerns, people familiar with the negotiations have said. Those could include selling gas-production operations in local markets, one of them said. That would potentially address the sort of market-by-market review that France's Air Liquide SA, currently the largest player in the market, faced when it bought Airgas Inc. of the U.S. for $13 billion. 
But that deal left only four major suppliers including Praxair, Linde and Air Products and Chemicals Inc. The new proposed deal between Linde and Praxair -- the world's No. 2 and No. 3 suppliers -- could prompt antitrust officials to take a broader view to protect competition, antitrust analysts say.
"Mergers among industrial gas suppliers have been assessed at a local level in the past, when asset sales have been enough to resolve concerns about overlaps," said Jennifer Rie, an analyst with Bloomberg Intelligence. "But with a transaction that would leave only three major gas suppliers, antitrust regulators may be worried about consolidation in the industry as a whole."
Narrow Markets
While antitrust agencies have long focused on threats to competition in narrow markets, they also have taken a broader view of competition to oppose some mergers when they determine consolidation has gone too far. 
Last month, the Justice Department sued to block two health insurer mergers that would reduce the number of big U.S. players from five to three. In May, the FTC won a court ruling blocking Staples Inc.'s proposed takeover of Office Depot Inc. That lawsuit came even after the agency approved an earlier tie-up between Office Depot and OfficeMax Inc.
EU Competition Commissioner Margrethe Vestager has also cracked down on mergers in the telecom industry that would reduce the number of players from four to three, blocking deals in the U.K. and Denmark.
FTC Review
A merger would likely be reviewed in the U.S. by the Federal Trade Commission, which cleared the Airgas takeover in May after the companies agreed to sell businesses that produce seven kinds of industrial gases. The investigation focused on specific regions around the country where the companies competed, rather than a national market. That's in part because industrial gases can't be transported more than a few hundred miles.
Analysts saw possibilities for overlaps in several different business areas: One in regional merchant markets where gas is delivered periodically to clients as well as in on-site jobs where they set up production directly at a customer's facility.
"There are significant overlaps across the businesses, especially in their ability to offer on-site projects," said Jeremy Redenius, an analyst with Sanford C. Bernstein in London.
The deal would encounter "significant antitrust hurdles," Seaport Global Securities analyst Michael Harrison said in a note. The companies would have to sell assets across all geographic regions, primarily in regional merchant gas markets, Harrison said.

Praxair and Linde have been exploring a combination off and on for years, people familiar with the matter have told Bloomberg News. Discussions between the two companies are ongoing but it's early in the process and no terms or structure have been agreed upon, according to the people, who asked not to be identified as the negotiations are private. Praxair, which supplies gases such as oxygen, nitrogen and carbon dioxide, has a market value of $33.7 billion. Linde, a gases and engineering company, was valued at 25.9 billion euros ($29 billion) based on Monday's closing price.
The biggest competition issues might arise in South America, particularly Brazil, where the combined entity might have a market share upwards of 60 percent, Baader analyst Markus Mayer wrote in a note. Still, Linde has already been restructuring its operations in the country, allowing it to tackle any issues "relatively quickly." Elsewhere in South America, the market share would be close to 50 percent, he said.
In the U.S. and Europe, Mayer said the companies might not face serious antitrust issues.
Market Shares
While the two companies might command close to 50 percent of the market in North America, Linde's business in the region is primarily related to healthcare gases, Mayer said. In Europe, Praxair only has a 10 percent share.
Linde shares jumped 11.2 percent to 154.90 euros in Frankfurt. Shares of Danbury, Connecticut-based Praxair rose 4.3 percent to $123.14 at 1:42 p.m. in New York.
Four years ago, when the European Union reviewed Linde's acquisition of a European business from Air Products & Chemicals, regulators said Linde and Praxair appeared to have significant positions in some European markets, including Spain and Portugal.
The European Commission eventually approved the deal, which was valued at 590 million euros ($664 million) at the time, without concessions, despite the companies offering remedies to the regulators.
Ioannis Kokkoris, a professor in law and economics at Queen Mary University of London, downplayed the potential for a global review, saying antitrust scrutiny will hinge on specific markets.
"The global issue is completely irrelevant," he said. "It's a massive deal globally but it may be narrow nationally."
Before it's here, it's on the Bloomberg Terminal.
LEARN MORE