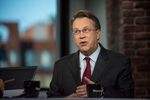 The world made it through the Great Recession. Now it's entered what you might call the Great Reassessment. 
High-profile researchers are publicly questioning the most basic tenets of monetary policy in the run-up to the Federal Reserve Bank of Kansas City's economic symposium in Jackson Hole, Wyoming, which starts Aug. 25. San Francisco Fed President John Williams has issued a call for a major rethink among central bankers and fiscal policy makers, with an eye on scrapping low-inflation targeting. Former Fed Chairman Ben Bernanke analyzes why the Fed has been revising its economic projections. Meanwhile, a new IMF paper assesses both the effectiveness of, and the outlook for, Europe's negative interest-rate policies.
Below you'll find a summary of some of the most significant economic studies, essays and notes released over the past week. We're also highlighting U.S. election-related research, including a new look at charter schools and a few studies vetting the outlook for the post-Nov. 8 economy.
This column is a new feature summarizing the last week's most thought-provoking economic studies. This one centers on research published Aug. 8-16. Check back every Tuesday to see what's new.
1. Monetary Policy in a Low R-star World
Author: John Williams
Available: San Francisco Fed, published Aug. 15. 
San Francisco Fed chief Williams argues that we're currently getting a first taste of the future: a world where interest rates are permanently lower, growth is slower and unacceptably low inflation is more of a risk than in the past. "Unfortunately, if the status quo endures, the future is likely to hold more of the same — with the possibility of even more severe challenges to maintaining price and economic stability," he writes. He urges a rethink of both monetary and fiscal policy to deal.

Williams's really dramatic statement here is that he thinks the Fed should consider scrapping low-inflation targeting — long the mantra of central banking — in favor of a higher inflation goal, or even nominal GDP targeting. He also suggests that Capitol Hill could consider rolling out bigger and broader automatic stabilizers that kick in to stimulate the economy as soon as there's a downturn. Tying social security to the business cycle could be one option, he writes.
"We can wait for the next storm and hope for better outcomes or prepare for them now and be ready," Williams writes. 
2. The Fed's Shifting Perspective On the Economy and Its Implications for Monetary Policy
Author: Ben S. Bernanke 
Available: Brookings Institution, published Aug. 8 
Former Fed Chairman Bernanke said that there's an "ongoing shift" in the Fed's economic views. As policymakers have become more pessimistic about how fast the economy can grow and how high interest rates can rise before crossing over into contractionary territory, they've become more dovish on policy, he writes. "Rate hikes are seen as less urgent even by those participants inclined to be hawkish," according to the piece. "They see current policy as less accommodative, the labor market as less tight, and inflationary pressures as more limited."


Going forward, that will make data more important than Fed officials' statements, he writes. "Ultimately, the data will inform us not only about the economy's near-term performance, but also about the key parameters," like the potential for unemployment, output growth and interest rates, "that the FOMC sees as determining that performance over the longer term."
3. Negative Interest Rate Policy: Implications for Monetary Transmission and Bank Profitability in the Euro Area
Authors: Andreas Jobst and Huidan Lin
Available: International Monetary Fund, published Aug. 10 
These IMF economists find that negative rates in the euro area have contributed to a "modest" expansion in credit, helping to enhance the ECB's forward guidance while boosting household lending. They also say the policies have done limited damage to bank profitability so far. Still, the paper's takeaway is that policymakers can only cut rates so low before the costs to banks become a major problem — and the monetary policy boost from going lower is diminished. "As sustainable profitability becomes more difficult to achieve, capital-constrained banks become more likely to reduce lending despite declining rates," they write.
The authors advocate looking toward credit easing and the ECB balance sheet for further accommodation. Bonus: The paper has a nice cheat-sheet table on page 6 listing an overview of the policy mix being employed at central banks with negative rates. This paper provides a state-of-play on a much-discussed policy, and it's full of great graphics to help put the discussion into context. 
4. Charter Schools and Labor Market Outcomes
Author: Will S. Dobbie and Roland G. Fryer, Jr.
Available: National Bureau of Economic Research, for subscribers; in NBER digest week of Aug. 15
"School choice" is a hot topic this election, as it's been lauded by Republican presidential contender Donald Trump — and this paper provides some context for understanding the debate. Princeton's Dobbie and Fryer, who won the prestigious John Bates Clark Medal in 2015, estimate how charter schools impact graduation and early earnings based on data from Texas. "We find that, at the mean, charter schools in Texas are no more effective at increasing test scores or educational attainment than regular public schools," they write. While charter attendance slightly increases high school graduation, two-year college enrollment and four-year college enrollment, it's associated with a very small decrease in annual earnings and has no detectable impact on employment rates.
The researchers note that looking at average effects masks very different experience by school type — "no excuses" schools, which are stricter, "are effective at increasing human capital on almost every dimension we are able to measure in our data." Still, the earnings increase from attending such a school is so tiny that it isn't statistically significant.
5. Post-election economy research
Author: various bank research notes
Available: Tax analysis is here; notes only available to clients 
One topic getting a lot of love from Wall Street economists is the outlook for the economy under either a Trump or a Democratic nominee Hillary Clinton presidency, especially after Trump's economic plan unveiling last week and Clinton's rebuttal. Societe Generale's Stephen Gallagher writes that while a Trump victory is "low-odds," it could make for lower taxes — a growth positive in the near term — while immigration and trade could be headwinds to growth down the road. Earlier this month, Goldman Sachs projected that "fiscal policy will become slightly more expansionary over the next two years," since business taxes and infrastructure are likely to be a focus of either administration. "There is also still a clear possibility of single-party control next year, which would probably lead to a greater fiscal boost than divided government," analyst Alec Phillips wrote.
Also handy for those trying to understand the post-election outlook: Wolters Kluwer Tax & Accounting has prepared a handy cheat sheet on the candidates' tax proposals.


Before it's here, it's on the Bloomberg Terminal.
LEARN MORE