MGM Lifts China Stake in $325 Million Pact With Pansy Ho
by
Chinese investor building 4.95% holding in MGM Resorts

Casino operator's ownership of China division to rise to 56%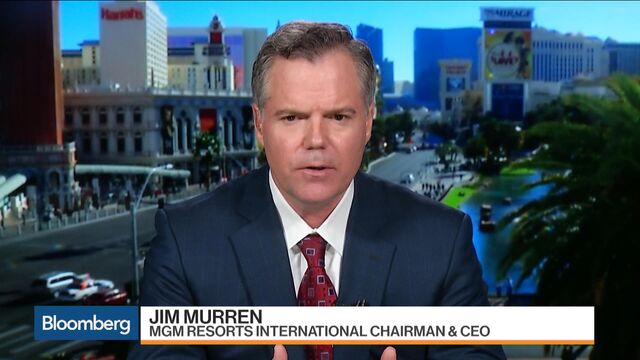 MGM Resorts International acquired more shares in its China unit in a deal valued at about $325 million with Pansy Ho, the daughter of gambling mogul Stanley Ho, who will add to her stake in the Las Vegas-based parent company.
The transaction lets MGM increase its stake in MGM China Holdings Ltd. to 56 percent from 51 percent, according to a statement Tuesday. The company will pay Ho's holding company $100 million, give her about $175 million in stock and dole out $50 million in deferred payments in lieu of the dividends she would have received for holding the shares.
The agreement tightens the bonds between MGM and Ho, who has been the company's partner in China for more than a decade, while also letting her diversify her holdings beyond China. Ho also agreed to acquire 4 million shares from Tracinda Corp. at $25 apiece, giving her a stake of 4.8 percent in MGM once all her transactions are complete. Tracinda was run by billionaire Kirk Kerkorian, who died last year.
MGM China rose as much as 1 percent in Hong Kong trading Wednesday, while MGM Resorts fell 1.4 percent at the close in New York. The Macau unit has gained 19 percent so far this year, ahead of the Hang Seng Index's 4.6 percent, while MGM Resorts advanced 7.8 percent.
Cotai Casino
Ho ceded joint control of MGM China, originally a 50-50 venture, in 2011, selling 1 percent to MGM and offering another portion in a public share sale that raised $1.5 billion. After the new transactions, her stake will fall to about 22 percent, according to data compiled by Bloomberg.
MGM and Ho are taking cautious steps toward opening a second casino in Macau, the betting enclave that has been in a slump after a government crackdown on corruption and graft that increased scrutiny on lavish spenders. The $3.1 billion MGM Cotai's opening was pushed back this month to the second quarter of next year, at least the third time it's been postponed.
Before it's here, it's on the Bloomberg Terminal.
LEARN MORE