John McLaughlin, Political Talk-Show Host, Dies at 89
by
His rowdy programs ushered in an era of brawling cable pundits

The PBS television show 'The McLaughlin Group' debuted in 1982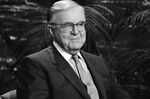 John McLaughlin, the U.S. talk-show host whose rowdy panel discussions on political issues entertained television viewers for more than 30 years and drew comparisons to professional wrestling, has died. He was 89.
He died Tuesday at his home in Washington, Clarence Page, a syndicated columnist and panelist on the "The McLaughlin Group," said in a telephone interview. No other details were provided.
A former speechwriter for U.S. President Richard Nixon, McLaughlin was best known for the syndicated show "The McLaughlin Group," which aired on more than 300 PBS stations and became one of the longest-running public-affairs programs after its 1982 debut. The program may also have been one of the most influential, as the prototype for brawling pundits spread to cable TV with programs such as "Crossfire" and "The Capital Gang" on CNN. He also hosted the interview series "John McLaughlin's One on One" on PBS.
"The McLaughlin Group" featured the host with a panel of opinionated Washington political reporters who carried on like a dysfunctional family at Thanksgiving. Panelists, often called by their nicknames, represented the full spectrum of viewpoints on topics ranging from bank regulation to climate change. Regulars included publisher Mort Zuckerman and Pat Buchanan, a former Nixon adviser and Republican presidential hopeful.
Missed Taping
McLaughlin didn't appear at a taping of the program earlier this month. "This is the first time in 34 years that our distinguished leader, Dr. McLaughlin, is not in his chair and we miss him," Buchanan said. "But let's get on with the show."
"Wrong!" McLaughlin would shout, interrupting when he disagreed and moving things along at breakneck speed. He demolished the more sober mold of political discussion that had formerly prevailed, with shows such as "Agronsky and Company," "Washington Week in Review" and "Meet the Press."
"These public talk shows had become very stilted," McLaughlin said in a 1990 interview, according to Broadcasting and Cable magazine. "The journalists saw themselves as high priests."
Leaves Priesthood
McLaughlin actually had been a Catholic priest and displayed a Jesuit's love of disputation, minus the gravitas. He had left the priesthood to marry by the time "The McLaughlin Group" first went to air in the 1980s.
His career path included stints as a high-school teacher, magazine editor, U.S. Senate candidate, and White House special assistant to Presidents Nixon and Gerald Ford.
Another Republican president, Ronald Reagan, was a fan, once describing "The McLaughlin Group" as "the most tasteful programming alternative to professional wrestling."
"John took a simple Sunday morning discussion format," Reagan said at a 1985 reception in Washington. He "managed to turn it into a political version of 'Animal House.'"
Early Life
John Joseph McLaughlin was born March 29, 1927, in Providence, Rhode Island. His parents were the former Eva Philomena Turcotte and Augustus Hugh McLaughlin. His father was a furniture salesman, according to McLaughlin's 1997 marriage announcement in the New York Times.
His family, which included locally prominent politicians and businessmen, was staunchly Democratic, he said, according to a 1974 article in the Boston Globe.
McLaughlin attended Catholic schools and Boston College, where he received his undergraduate degree as well as master's degrees in English and philosophy. After attending the Jesuit seminary in Weston, Massachusetts, he was ordained a Catholic priest in 1960, according to Marquis Who's Who. He also received a doctorate from Columbia University in 1967.
McLaughlin taught in Catholic high schools for several years in the 1950s, then became an editor at America, a Catholic journal of opinion. He also made regular appearances at college campuses to speak on sex education. One popular talk he gave was titled "Intimacy Before Marriage and the Swedish Experience."
"Father McLaughlin knows more about the 'Playboy' ethic than the most dedicated playboy," Ronald Rafferty, a University of Connecticut chaplain, said in 1971, according to columnist Kevin Phillips of Human Events, a conservative publication.
Nixon's Speechwriter
After losing in a landslide in the 1970 Senate election in Rhode Island -- he ran as a Republican opponent of the Vietnam War -- McLaughlin took a job as a speechwriter in the Nixon White House. There he became known as "The Swinging Celibate," sporting double-breasted suits and wide ties.
As the Watergate scandal unfolded, McLaughlin defended Nixon on CBS News as "the greatest moral leader of the last third of this century," according to an article in America, a Jesuit periodical.
In 1975, he resigned from the Society of Jesus to marry Ann Dore, a longtime acquaintance and Republican political operative who went on to become Reagan's labor secretary.
Political Theater
McLaughlin's entry into on-air political theater began in 1979, when he became a talk-show host on WRC radio in Washington. Soon he moved to television, bringing a feisty attitude with him.
He was also a columnist and editor at the National Review, the conservative weekly.
In 1989, McLaughlin reached an out-of-court settlement in a $4 million sexual-harassment lawsuit brought by a woman who had worked as a producer for "The McLaughlin Group."
The show became enough of an institution to inspire a "Saturday Night Live" parody, and continued into the 21st century.
McLaughlin and his first wife divorced in 1992. In 1997, he married Cristina Vidal, a producer at "The McLaughlin Group." They divorced in 2010.
The following year, at a Washington event marking McLaughlin's retirement, panelist Morton Kondracke was asked about the show's significance.
"It was the beginning of the end of civil discourse in this country, if not the beginning of the end of Western Civilization," he said, according to a Washington Post story.
Before it's here, it's on the Bloomberg Terminal.
LEARN MORE