Intel Cuts the Cord With New VR Headset Called Project Alloy
By
Chipmaker to open design of device for developers to use

Real-world objects incorporated as user moves through rooms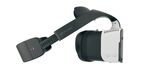 Intel Corp., the world's largest chipmaker, showed off a virtual reality headset that doesn't require a cable connection to a computer and can integrate objects from the real world via onboard cameras.
"Project Alloy takes the cord off the VR headset," said Chief Executive Officer Brian Krzanich at the company's annual Developer Forum conference in San Francisco. "To me that's what virtual reality means."
The device has cameras and sensors that allow the user to introduce objects from the real world and move through multiple rooms interacting with virtual objects using their hands. Krzanich said he's going to make the Alloy design open source and offer it for developers to use. Separately, Microsoft Corp. is going to update its Windows 10 software with Windows Holographic capabilities to help move VR more into the mainstream, according to Microsoft Executive Vice President Terry Myerson, who spoke at the Intel conference.
Krzanich is trying to get his company's products into new markets to make up for the personal computer industry's slump. Intel still gets the majority of its revenue from that market, which is on course to end this year 100 million units smaller than its peak in 2011. It's also been missing targets in the lucrative server chip business, which had been propping up the chipmaker's earnings.
Like many other chip company chief executives, Krzanich said he's focusing on the growing market for adding computing to everyday devices, called the Internet of Things. Though that unit has grown, it still only accounts for about 4 percent of the company's total sales.
Krzanich showed off new chips and computer boards and sensors aimed at firing up that business. One will provide the computing and communications guts of drones, making it easier for designers of autonomous versions of the small aircraft to quickly build consumer and industrial products. For those that don't want to do the building themselves, Intel will offer a complete drone kit.
The Intel CEO also spoke with an executive from BMW AG, about the need for increasing computing within cars as they progress toward full autonomy. The German automaker has partnered with Intel to try to develop industry-standard parts that will speed up progress toward that goal. BMW Senior Vice President Elmar Frickenstein told the audience at the conference that his company is aiming to offer fully, autonomous vehicles by 2021.