Inflation Tame, Housing Starts Advance: U.S. Economic Takeaways
by , , and
Core consumer prices increased less than forecast in July

Beginning home construction outpaces building permits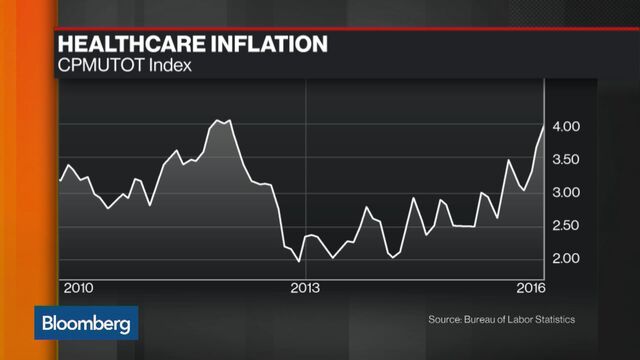 What you need to know about Tuesday's U.S. economic data:
CONSUMER-PRICE INDEX (JULY)
Unchanged (matching forecast) after 0.2 percent gain
Core CPI, which excludes food and fuel, rose 0.1 percent (forecast was 0.2 percent)
CPI depressed by cheaper gas, hotel rates, airfares, groceries, used cars
Medical-care costs increased by most since February
CPI up 0.8 percent in year to July; core CPI up 2.2 percent
The Takeaway: Price pressures were absent across broad swathes of the economy with the exception being higher rents and medical-care costs. Federal Reserve policy makers want to see signs of inflation moving toward their goal. That is proving elusive thanks to discount-demanding consumers and competition from cheaper overseas goods, which make it harder for the central bank to raise interest rates anytime soon. Contained inflation, however, is stretching Americans' paychecks. Real hourly earnings rose 0.4 percent, the most since January.

HOUSING STARTS (JULY)
Rose 2.1 percent to 1.21 million (forecast was 1.18 million)
Building permits little changed at 1.15 million
Number of homes under construction rose to 1.04 million, most since January 2008
Construction authorized but not started fell to lowest since March 2015
The Takeaway: Stronger-than-expected construction numbers show housing is maintaining moderate progress. That's impressive considering the industry has said a lack of buildable lots and of skilled labor are holding the market back in some areas. Residential investment has had almost no impact on GDP in the first half of the year after contributing to growth in 2015. The outlook remains cloudy as ground-breaking on new homes has outpaced building permits for two straight months and the number of dwellings under construction is already the highest in eight years, which could restrain starts in the near-term.

INDUSTRIAL PRODUCTION (JULY)
Rose 0.7 percent (forecast was 0.3 percent)
Factory output increased 0.5 percent, most in a year, after 0.3 percent gain
Warmer weather boosted utility output, while mining production also rose
Motor vehicle production increased along with business equipment
The Takeaway: Factories showed some promise in July as the headwinds from a stronger dollar, an inventory correction and plunge in energy-related investment gradually faded. While mining is poised to recover further as energy prices stabilize, manufacturing will need continued support from domestic customers to offset some of the weakness from uninspiring global growth prospects.

Before it's here, it's on the Bloomberg Terminal.
LEARN MORE