Handelsbanken Replaces Its CEO Citing 'Complex' Job Requirements
by and
Head of bank's U.K. operations to take over group CEO role

Chairman says changes relate 'purely' to the individual
Svenska Handelsbanken AB removed its chief executive officer after less than 18 months and said the top role at the bank has become so complex that a traditional management profile was no longer adequate.
Frank Vang-Jensen, a 48-year-old who was only appointed to the role of CEO in March last year, is being replaced by Anders Bouvin, 58, according to a statement published on Tuesday by Paer Boman, the bank's chairman. The changes are to take effect immediately.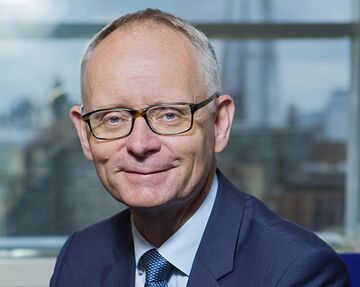 "It's a very surprising move" particularly given that it's the "second CEO change within 1 1/2 years," said Andreas Hakansson, an analyst at Exane BNP Paribas in Stockholm. "That's a major, major change" considering that "Handelsbanken is known for being a very stable, long-term focused bank. So that frequency of changes is a very big surprise."
To read about other Swedish bank executives being fired, click here.
Shares in Handelsbanken fell 1.6 percent to 106.90 kronor as of 10:55 a.m. in Stockholm. Sweden's benchmark index was down 0.7 percent.
Boman said the CEO job simply became "too hard" and "too big" for Vang-Jensen, preventing him from fulfilling the role's requirements, in comments to reporters after the initial announcement. Boman, who was himself CEO until early 2015, even went as far as to say it had been a recruitment error to hand the title to Vang-Jensen.
The chairman said that branch managers need to have a very high degree of autonomy, which requires a "special type of leadership" from the top, and one that is "considerably more complex than traditional management," according to a statement.
Vang-Jensen appeared to be "more focused on centralizing a lot of operations," said Kristin Dahlberg, an analyst at Jefferies International in London. The approach wasn't "to the taste of some of the board and branch managers."
Bouvin has been executive vice president at Handelsbanken since 2002, with a background spanning positions as a branch manager in New York and general manager of Handelsbanken in Denmark. His most recent appointment was as the head of the bank's operations in the U.K.
The new CEO said there is "no need to change the model at all, rather the contrary," in an interview after the press conference. "The way we bank really differentiates us from our competitors."
Since late March last year, when Vang-Jensen took the helm, shares in Handelsbanken have fallen about 22 percent, compared with a 37 percent decline in the Bloomberg index of European financial stocks. Nordea Bank AB, Scandinavia's biggest lender, lost 26 percent over the same period.
Handelsbanken, which has more branches in Sweden than any of its main competitors, has made a decentralized business model a selling point, arguing the strategy is more customer friendly than the online and digitized services that are starting to dominate elsewhere. In a country that is largely turning cashless, Handelsbanken has remained a bastion of cash handling. The bank has also consistently topped customer satisfaction surveys of Sweden's four biggest lenders.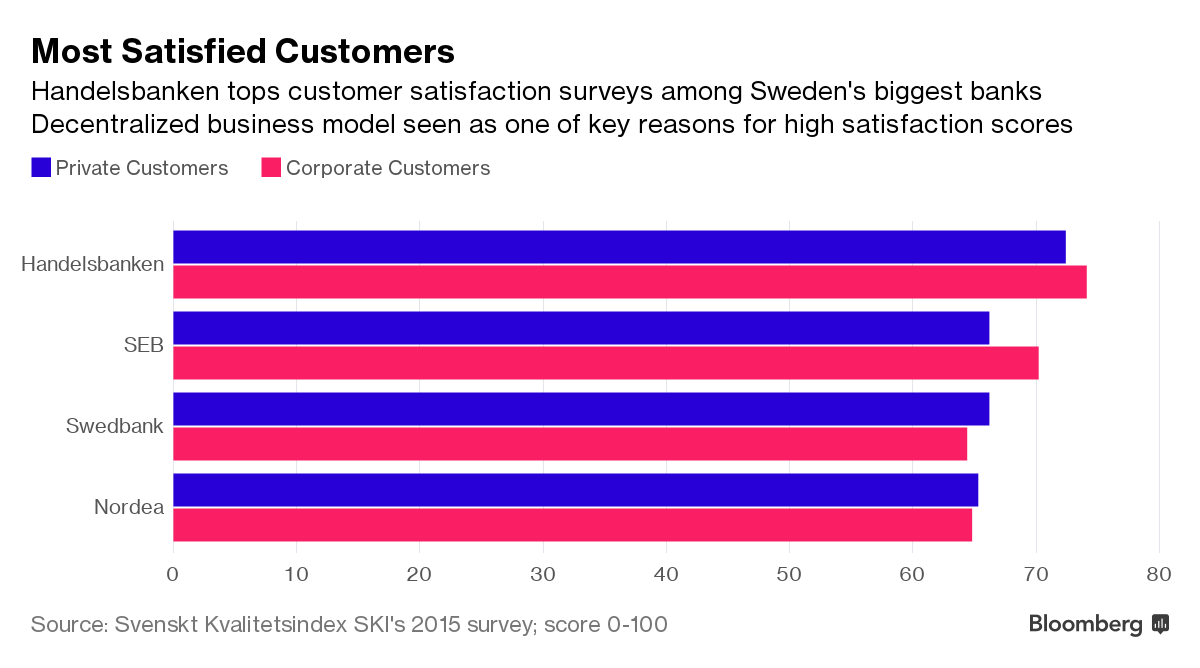 "Branch offices give Handelsbanken an edge when it comes to customers and satisfaction, market share and an ability to cross-sell," Dahlberg said. Still, there are "advantages and disadvantages with decentralization," she said.
The bank needs to "think about how to increase efficiency and sustainability and how to take advantage of digital banking longer term," Dahlberg said. "This will probably require more work than a centrally run bank."
Before it's here, it's on the Bloomberg Terminal.
LEARN MORE