Glaucus Calls Japan Bourse CEO Ignorant in Short-Seller Spat
by and
Glaucus targeted Itochu in first Japanese short last month

JPX CEO Kiyota said he has ethical doubts about the report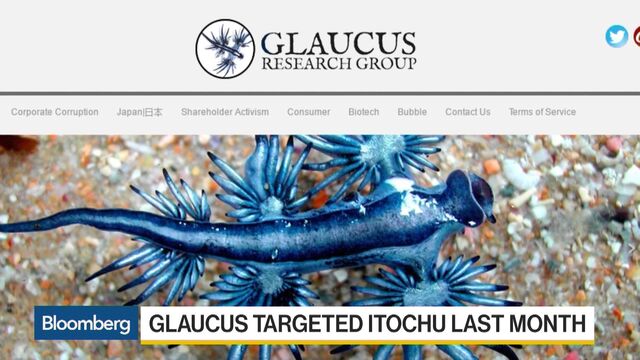 Glaucus Research Group, which targeted Itochu Corp. in its first Japan report, criticized the head of the nation's stock exchange for what it says is a lack of understanding of the role of short sellers.
Glaucus was responding after Akira Kiyota, chief executive officer of Japan Exchange Group Inc., said he had doubts about the investor's ethics following its criticism of the trading company Itochu's accounting practices last month. Short sellers deter management misconduct and are often first to detect malfeasance, according to Soren Aandahl, director of research at Glaucus. Naoki Isomoto, a spokesman for Japan Exchange, declined to comment.
"These comments are incredibly inappropriate coming from an exchange that should be nominally neutral but moreover far more concerned with listed companies living up to the standards" of Prime Minister Shinzo Abe, Aandahl said in a phone interview earlier this week. "It shows a real ignorance of the many benefits that a vibrant short-selling community brings to the market."
Glaucus published a 42-page "short-biased" report on Itochu on July 27, questioning the accounting treatment for three investments including a Colombian coal joint venture and saying shares are poised to fall 50 percent. Itochu denied any wrongdoing, stating Glaucus's allegations are designed to drive down the stock in search of a profit.
The arrival of short sellers in Japan comes after Abe's government rewrote rules for companies to make them more responsive to investors. Another such investor targeted a Japanese company on Tuesday, when Andrew Left's Citron Research said Cyberdyne Inc.'s stock is overvalued and poised to plunge. Cyberdyne said the report was malicious and factually inaccurate, and the company may consider legal action. Citron also mentioned Kiyota's comments, saying short sellers provide balance in markets.

The tensions that exist between short sellers, company executives and stock analysts around the world have an extra dimension in Japan, where customs discourage public confrontation and aggressive activism is shunned by many in the investing community.
"Regardless of whether the report is right or not, I partly feel ethical doubts about it," Kiyota told reporters at the bourse's regular monthly press conference in Tokyo the day after Glaucus published its thesis on Itochu. "According to reports, the investor is said to short sell before it publicized its findings after discovering facts through research."
Kiyota said the exchange's self-regulatory body could look into trading patterns around the report. Hiroyuki Matsuzaki, a standing governor at Japan Exchange Regulation, declined to comment last week on whether his organization was investigating Glaucus.
Brokerage Criticism
"We aren't in a position to comment on whether Glaucus is good or bad," Matsuzaki said in an interview in Tokyo. But "a person who has their own position and releases a report based on that is interpreted as unusual in Japan."
Glaucus's report has also been criticized by analysts at brokerages including Jefferies Group LLC for not presenting anything new and lacking quality. Itochu, meanwhile, categorically denied wrongdoing, while saying its accounts were approved by its auditors and that it was considering legal action.
"Glaucus makes serious accusations: Itochu has yet to address the issue seriously," said Nicholas Smith, a strategist at CLSA Ltd. in Tokyo. "Reminding us the accounts have been audited gives no comfort whatsoever: it urgently needs to show it cares about shareholders; the best way of doing that would be an independent inquiry. That would be taken as a show of confidence, not an admission of guilt."
No Investigation
Itochu's position hasn't changed from when Chief Financial Officer Tsuyoshi Hachimura said on Aug. 2 that the company didn't plan to establish a third-party committee to investigate Glaucus's allegations, a spokesman for Itochu said, asking not to be named citing company policy.
Itochu shares fell as much as 10 percent the day Glaucus issued the report. They've since recovered some of the losses. The stock rose 2 percent in trading on Wednesday. Aandahl says he's not concerned about short-term market movements and plans to stick with his bearish bet despite some "potentially negative stereotypes" of short-sellers in the country.
"We're a little bit longer-term in terms of our investments," Aandahl said. "We also want to communicate to the Japanese market and Japanese investors that the issues that we raise, although we're raising an issue with a particular company, we believe it's for the greater good of the market as a whole."
Before it's here, it's on the Bloomberg Terminal.
LEARN MORE