business
Congo Giving 10 Million Yellow-Fever Vaccines to Halt Outbreak
By
Campaign latest bid to halt disease that spread from Angola

More than 450 people have been killed by virus since December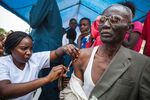 The Democratic Republic of Congo plans to vaccinate more than 10 million people against yellow fever in a further bid to halt an outbreak that spread from neighboring Angola and has killed more than 450 people since December.
The initiative, which starts Wednesday, seeks to inoculate over 7.5 million people in the capital, Kinshasa, in the next 10 days, Public Health Minister Felix Kabange Numbi said at a ceremony in the city's Kasavubu district. Citizens will receive smaller-than-usual doses that provide 12 months of protection, in an effort to extend already depleted global stockpiles of the vaccine, he said.
The region's largest outbreak of yellow fever in 30 years began in Angola in late 2015 and has claimed some 369 lives in that country, where it "peaked" in early March, according to the World Health Organization. At least 95 people have died of the virus in Congo, which reported 2,051 suspected cases by July 27, WHO said Aug. 5.
Symptoms of yellow fever include fever and vomiting, while about 15 percent of patients enter a second, more toxic, phase, half of whom die. However, unlike the Ebola virus that claimed more than 11,000 lives in parts of West Africa in 2014 and 2015, it's not highly contagious and can be prevented if adequate vaccines are available.
Congolese health officials already administered two vaccination campaigns in May and July, but were forced to delay the larger campaign due a shortage of doses and syringes. Experts are concerned that a major outbreak of the virus in urban areas like Kinshasa, a city of 12 million people, would quickly overwhelm health infrastructure and vaccine stockpiles.
At least 314 cases have now been confirmed in Congo, of which 56 cases were imported from Angola, Numbi said. Cases have been identified in five provinces, as well as the city of Kinshasa, he said.
Before it's here, it's on the Bloomberg Terminal.
LEARN MORE