markets
Rousseff Appeals to Senators Before Brazil Impeachment Trial
By
Rousseff published letter saying ouster would be unjustified

Says supports plebiscite on new presidential elections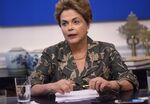 Dilma Rousseff appealed to Brazilian voters and legislators less than 10 days before her impeachment trial starts in the Senate, pledging to hold a plebiscite on new elections if she survives in office.
QuickTake Brazil's Highs and Lows
Rousseff presented her case in a four-page letter to the Brazilian people and Senate on Tuesday, reading the text to reporters in Brasilia without taking any questions. She was flanked by some of her former ministers.
"The solution to the political and economic crisis we face is through the popular vote," she said. "Democracy is the only way to build a partnership for national unity."
Just hours after she spoke, Brazilian newspaper Estado de Sao Paulo reported that a Supreme Court justice had authorized an investigation into Rousseff on allegations of interfering in a sweeping corruption probe known as Car Wash. Her press office said in a statement that it's confident she will be found innocent.
For a look at the investigation into Rousseff, click here.
While the vast majority of Brazilians didn't approve of Rousseff's administration in public opinion polls, many also have doubts over whether she should be forced from office. Spectators at the opening ceremony of the Olympic Games booed her successor, Michel Temer, who she accuses of leading the push to oust her.
Congress charged Rousseff with illegally using accounting tricks to mask a budget deficit, which she said is not an impeachable offense. The Supreme Court investigation into obstruction of justice is unrelated to the impeachment process.
Blamed Congress
Rousseff on Tuesday repeated many of the arguments against her ouster that she has made in recent months, while going into a lengthy defense of her mandate and handling of the economy. She blamed Congress for blocking efforts to shore up fiscal accounts and likened the impeachment process to a modern-day coup.
Some lawmakers were quick to criticize Rousseff's proposal for a plebiscite. Senator Cassio Cunha Lima said it was a sign of political desperation. "She had her chance to negotiate with Congress, but was too arrogant," said the senator, whose Brazilian Social Democracy Party opposed the Rousseff administration.
Fifty-four senators, or two-thirds of the upper house, must vote against Rousseff in the impeachment trial to permanently remove her from office. Fifty-nine senators decided last week to open the trial, and Temer's allies say they are confident they have more than enough support to win. Even if Rousseff comes out victorious and Brazilians decide to support elections in a plebiscite, it would require a constitutional amendment for a presidential vote to take place.
Rousseff will have one more chance to defend herself in the impeachment trial, which Senate President Renan Calheiros says will start Aug. 25. She pledged to use all legal tools at her disposal to defend her mandate.
— With assistance by Samy Adghirni, and Mario Sergio Lima
(
Updates with report of probe into Rousseff in fourth paragraph.
)
Before it's here, it's on the Bloomberg Terminal.
LEARN MORE