BHP Says Price Freefall Is Over Following Record Net Loss
by and
Producer sees strong longer-term outlook for copper, oil: CEO

Second-half profit jumped 95% on commodities rally in 2016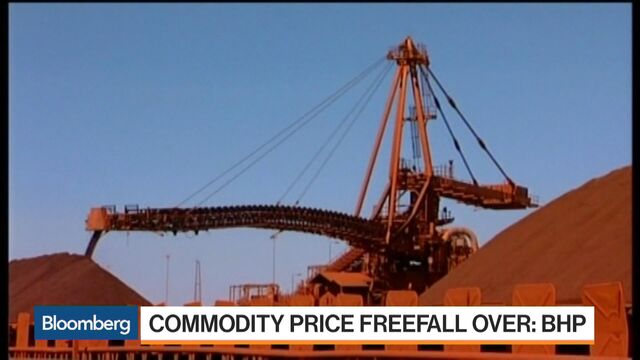 BHP Billiton Ltd., the world's biggest mining company, flagged it's emerging from the worst commodities price collapse in a generation with renewed impetus after reporting a record full-year loss.
"There is some sense that prices have stopped falling as opposed to being in freefall," Chief Executive Officer Andrew Mackenzie told reporters Tuesday on an earnings call. "We start this new financial year with real momentum."
Underlying profit jumped 95 percent to $803 million in the six months ended June 30, from $412 million in the preceding half, according to Bloomberg calculations based on Melbourne-based BHP's full-year earnings published Tuesday in a statement.

Commodities prices have rebounded since tumbling to a 25-year low in January and posted their best three months since 2010 in the second quarter as China's economy stabilized and policy makers backed growth. BHP's full-year result will likely mark a low point for the producer, with a rebound in prices and higher output to lift profits this fiscal year, according to Peter O'Connor, a Sydney-based analyst with Shaw and Partners Ltd.
"Commodity markets are no longer getting worse," Colin Hamilton, an analyst with Macquarie Group Ltd., said in an interview with Bloomberg Television in London. "Chinese demand has actually surprised on the upside for the first time in a few years. The question is the sustainability."
BHP closed 0.7 percent higher at 1,049.5 pence in London where the stock has gained 38 percent this year. The 98-member Bloomberg World Mining Index has advanced about 42 percent this year after commodities surged the most in the first half since the 2008 financial crisis.
"A lot of longer term or value investors are coming back into our stock, I know that because we see the register," Mackenzie said in an interview with Bloomberg Television from London. "I think what they see as an investment proposition in BHP Billiton is that we have some great assets and we are running them incredibly well. We have a very rigorous capital allocation process."
Profit Recovery

A recovery in prices and volumes is seen lifting BHP's profit from the record low. The producer's underlying profit will rise to $2.4 billion this fiscal year and to $3.6 billion in the following 12 months, according to analysts' estimates compiled by Bloomberg.
China's growth rate has stabilized and the nation's government is expected to remain supportive, as it reduced excess capacity in coal and steel, while boosting the role of consumer demand and maintaining support for employment, BHP said in its statement. Global growth remains modest and subject to downside risks including the impact of the U.K.'s decision to quit the European Union, the producer said.
Prices "are expected to remain low and volatile in the short to medium term, Mackenzie said in the statement. Still, BHP is "confident in the long-term outlook for our commodities, particularly oil and copper."
BHP will make investment decisions on the Mad Dog 2 conventional oil project and a copper growth program at the Spence operation by the end of 2017, he said. Work on sinking two shafts at the Jansen potash project at a cost of almost $2.6 billion will continue before a decision is made around 2019, Mackenzie said.

BHP recorded a full-year net loss of $6.4 billion, the producer said. That's the first annual loss since the company was formed in the 2001 merger of BHP Ltd. and Billiton Plc, according to data compiled by Bloomberg. Underlying annual profit at $1.2 billion was the lowest since fiscal 2001, according to the data. That beat the $1.04 billion average estimate among 19 analyst forecasts compiled by Bloomberg.
Questions remain over the direction of BHP's oil and gas business, according to Ben Cleary, a Sydney-based portfolio manager for Tribeca Investment Partners Pty, which has assets of about A$2.4 billion ($1.9 billion) under management. "We know it's a money pit and the chance of generating any go-forward return is reliant on higher oil prices and lots of capital spend."
Samarco Spill
The producer booked after-tax charges of $7.7 billion related to the deadly dam spill at its Samarco iron ore joint venture in Brazil, global tax issues and against its U.S. shale assets amid weaker oil prices, BHP said. The Nov. 5 dam collapse in Brazil's Minas Gerais state released billions of gallons of mining waste through a valley, leaving as many as 19 people dead and hundreds more homeless.
Watch Next: Would an Iron Ore Tumble Save BHP's Future Profits?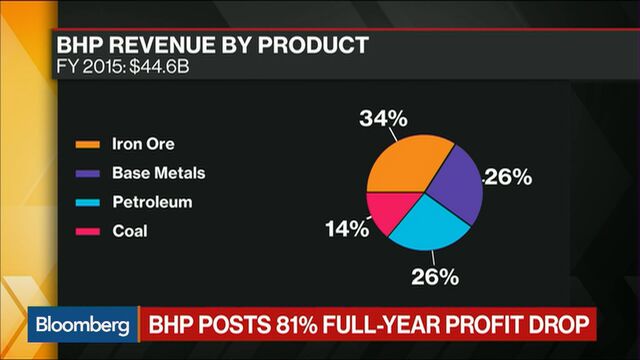 Samarco won't have necessary approvals to restart operations this year and the results of an external investigation into the incident will be available in the next few weeks, BHP said in its statement. The operation is jointly owned with Brazil's Vale SA.
BHP's full-year dividend fell 76 percent to 30 cents a share, under a policy set out in February that links the payment to profits. Capital expenditure fell 42 percent to $6.4 billion and will be cut further to $5 billion in the current fiscal year, BHP said.
Before it's here, it's on the Bloomberg Terminal.
LEARN MORE