technology
Batman Battles Nausea in Virtual Reality
By
'It's very easy to scare the crap out of people' in VR titles

The technology is just starting to hit its stride in gaming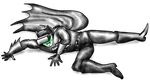 There's a special feeling you get when you play Bruce Wayne in the Batman: Arkham VR video game. You almost believe you're tapping the keys of the piano in your stately manor. You have the sensation of being whooshed down to the Bat Cave. With a grapple gun in one hand and batarang in another, you're ready to take on Gotham City.
You might not even throw up. Nausea can be a problem with virtual reality, and so can surprises. "It's very easy to scare the crap out of people," said Sefton Hill, co-founder of Rocksteady Studios, the Warner Bros. subsidiary that made the game. "When you put on the headset, your brain believes you're there."
VR is tricky that way. The industry began experimenting with it decades ago, but breakthrough games offering truly immersive experiences didn't start coming out until this year. The Batman title is among the most anticipated releases in a surge of VR products expected in the next few months.
Because many people suffer motion sickness if their eyes tell them they're moving when they're not, Hill and his team put a lid on disorienting movements, such as gliding between skyscrapers or racing down dark alleys. They also avoided cheap shocks, like a bad guy sneaking up behind you. "It's going to be a lot of people's first VR experience and we wanted to make it very comfortable," he said. "We kind of felt responsible." 
For a QuickTake explainer on virtual reality, click here.
Of course, developers aren't altruistic; they want to sell as many games as possible, an incentive for making the immersive experience palatable. Another hurdle to overcome is the expense of VR gear, with Facebook Inc.'s Oculus Rift going for $599 and HTC Corp.'s Vive for $799. Sony Corp.'s PlayStation VR could be a top seller because it will cost $399, said Joe Feldman, a Telsey Advisory Group analyst. "Stores will have a hard time keeping them in stock."
Batman: Arkham VR is scheduled for release on Oct. 13, the same day the PlayStation VR headset will be in stores. The video-game division of Time Warner Inc. developed the title exclusively for PlayStation 4, giving it a huge potential audience. More than 40 million of the consoles have been sold since the model was introduced in 2013. The $20 game was named best virtual reality game in previews at the Electronic Entertainment Expo in June.
"It's absolutely amazing," said Andy Lowe, a 40-year-old theater-production manager, after trying it. "When you see yourself in the mirror in the Batman costume, it really feels like you are in the game."

Virtual reality has the potential to be a lucrative advancement for the $92 billion video-game business. Some 230 developers are working on VR titles for Sony alone, with some 50 titles expected this year. Among them is the Star Wars-themed Battlefront X-Wing VR Mission from Electronic Arts Inc.; it will be a free download for people who own the non-virtual reality version.
Rocksteady Studios kept the Batman game short, in part so as not to overwhelm players in the new medium. It's a murder mystery, with the Dark Knight picking up clues about the killing of Dick Grayson -- a fellow super hero better known as Nightwing -- and lasts about 60 minutes.
Players click on targets that "teleport" them forward, rather than make them feel as though they're walking or running, to downplay the impression of motion. Before starting, people calibrate their height and distance from the console screen, so the device knows where to position them in the game. Warner Bros. did a good job of including solid, stationary details, like the walls of an elevator, for the eyes to focus on to prevent motion sickness, said Richard Marks, PlayStation's senior researcher engineer. "Your brain just needs something to latch on to."
Fans like 11-year-old Max Bruner, who persuaded his parents to drive to San Diego from Tulsa so he could test the game at Comic-Con International, are thrilled. "This is life changing," Max said after a few minutes as the Caped Crusader. "I might buy that with my own money."
Before it's here, it's on the Bloomberg Terminal.
LEARN MORE