markets
Argentina's Macri Wins Over $17 Billion Mutual Fund Industry
By and
Funds that invest in longer-term assets have soared this year

Slowing inflation is helping boost optimism in economy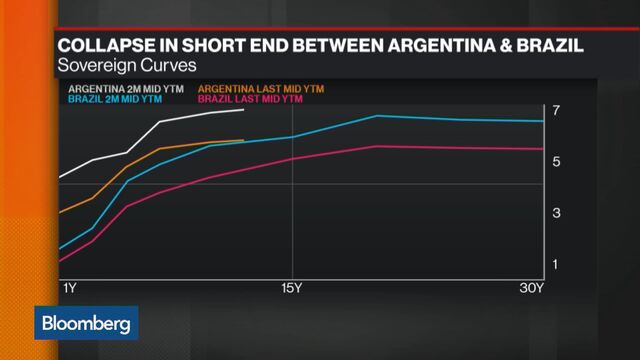 Since taking office in December, Argentina President Mauricio Macri has won over foreign investors by pulling the nation out of default and restoring the credibility of its data. Now, he's also beginning to get a vote of confidence from the country's $17 billion mutual fund industry.
Funds that buy assets maturing in more than 18 months have soared 66 percent this year, outpacing the growth in those dedicated to shorter-term investments, according to Moody's Investors Service. The trend is likely to become even more pronounced in the coming months amid increasing optimism about Argentina's economic outlook, said Moody's analyst Carlos de Nevares.
Macri's administration has gained investors' trust by stepping up efforts to tame high inflation that has long plagued South America's second-biggest economy. After boosting interest rates to as high as 38 percent in March, the central bank has trimmed them to just below 30 percent amid signs consumer price increases are slowing. Month-over-month inflation eased for the second straight month in July.

"The shortest-term instruments are ceasing to be attractive, so it's logical to see a migration," said Jacqueline Maubre, a money manager at Buenos Aires-based Cohen Sociedad de Bolsa. "What we're seeing is an optimism by investors that the central bank will accomplish its mission of lowering inflation. As the trend goes downward, we can say it's a good time to take on longer durations to capture better returns."
Monthly inflation slowed to 2 percent in July from 3.1 percent in June. The government is seeking to slow that number to 1.5 percent by December
While investors are showing more willingness to extend their horizons, 52 percent of mutual fund investments in Argentina are still in assets that mature in a year or less, according to Moody's. About 10 percent of funds are dedicated to longer-term investments.
Short-term funds tend to focus on assets like central bank notes known as Lebacs, de Nevares said. By contrast, the longer-term mutual funds invest in dollar-denominated and inflation-linked bonds.
"In every meeting we have gone to, portfolio managers are looking for new investment opportunities," de Nevares said. "Investors are showing higher confidence in the industry, higher confidence in the medium- and long-term recovery."
— With assistance by Sunny Oh
(
Updates with inflation figures in fifth paragraph.
)
Before it's here, it's on the Bloomberg Terminal.
LEARN MORE