What Do Chevron, Apple, and Chris Christie Have in Common?
Their law firm. Los Angeles-based Gibson Dunn & Crutcher has been swinging for the fences—and connecting in some big cases.
By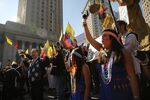 On Aug. 8, the law firm Gibson Dunn & Crutcher enjoyed its latest jolt of good news. A federal appeals court ruled in favor of its client Chevron Corp. in a multibillion-dollar case over oil pollution in Ecuador. It was arguably the most definitive ruling in a 23-year-old battle over environmental liability.
The case is only one victory among many for 1,200-attorney Gibson Dunn, which has its roots in Los Angeles and 19 offices around the U.S. and the world. "We're on a good run," says Randy Mastro, a co-chairman of Gibson Dunn's muscular litigation department and the firm's lead lawyer representing Chevron in the Ecuador oil case.
Good run may be an understatement. Other notable recent engagements include a $3 billion victory on behalf of Hewlett-Packard in a contract dispute with Oracle and the law firm's representation of Apple Inc. in the iPhone maker's encryption showdown with the Federal Bureau of Investigation. 
Litigation stems from controversy, of course, and Gibson Dunn's effectiveness at times draws criticism and unflattering media coverage, given some of its clients. The Chevron case, for example, pits poor Ecuadorian villagers against the mammoth oil company. Lawyers for the villagers have accused Gibson Dunn of thwarting the plaintiffs' ability to enforce a $9.5 billion judgment entered in Ecuador in 2011. Chevron counters that the lead plaintiffs' lawyer, Steven Donziger of New York, turned the pollution suit into a racketeering scheme—a conclusion affirmed by the federal appeals court.
In the notorious "Bridgegate" case in New Jersey, Gibson Dunn produced a report in 2014 that, to many observers' dismay, absolved Republican Governor Chris Christie (and former presidential candidate) of blame for the 2013 George Washington Bridge lane-closing scandal. The law firm has billed the state more than $10 million for its services in the case.
Whatever detractors may say about a particular case, though, the law firm is firing on all cylinders as a business. It had $1.5 billion in gross revenue in 2015, good for a ranking of No. 11 on the American Lawyer 100 list. All the firms with greater revenue are substantially larger than Gibson Dunn. Using another measure of financial performance, Gibson Dunn notched $3.2 million in profit per partner; that merited a ranking of No. 10 on the closely watched American Lawyer list.
While its fame and most of its revenue come from litigation, the firm also has a successful corporate practice, with such clients as the private equity outfits Investcorp and Lone Star Funds. R. Hewitt Pate, Chevron's general counsel, told American Lawyer magazine in January:  "If there's a better managed large law firm in the world, it hasn't been pointed out to me."
Before it's here, it's on the Bloomberg Terminal.
LEARN MORE