U.S. ELECTION WRAP: GOP Gets Trump Warning as Clinton Leads
If the election were held today, Trump would lose even if he won all outstanding "toss up" states, according to Cook Political Report's Charlie Cook.
By , , and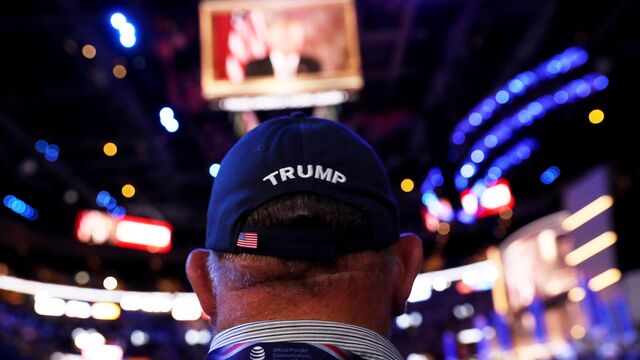 If Donald Trump can't get his presidential campaign in shape by Labor Day then the Republican Party should write off the New York real estate developer as "hopeless and focus on salvaging the Senate and House and other down-ballot races," the Wall Street Journal writes.
The scathing editorial follows polls showing Hillary Clinton sprinting ahead in key battleground states; a New York Times piece on the "failed mission" of Trump campaign insiders to get their candidate to change; and an overall Washington fixation on the GOP nominee's political viability

WSJ: "As for Mr. Trump, he needs to stop blaming everyone else and decide if he wants to behave like someone who wants to be president—or turn the nomination over to Mike Pence"

If the election were held today, Trump would lose even if he won all outstanding "toss up" states, according to Cook Political Report's Charlie Cook. In that scenario, he'd "still come up two electoral votes short of the 270 needed to win," Cook wrote in blog post. Clinton would win with 272
"The irony of course is that Clinton is exceedingly vulnerable," Cook wrote. "A non-polarizing Republican nominee might well have been able to prevail despite the Electoral College and demographic trends that are not naturally working to help the GOP in recent years."
NOTE: Cook "toss up" states are: Florida, Iowa, Nevada, North Carolina, and Ohio, as well as congressional districts in Maine and Nebraska

CLINTON E-MAILS
FBI will give Congress interview notes and a summary of evidence uncovered from its investigation into Clinton's private e-mail use, the Wall Street Journal reported, citing unidentified people familiar with the matter

Copies of classified e-mails will be included

Huma Abedin's multiple jobs during the last eight months of Hillary Clinton's time as secretary of state are drawing renewed scrutiny after a conservative watchdog group last week released a new batch of e-mails to and from Clinton aides, Bloomberg's Ben Brody and Nick Wadhams reported

Abedin was a State Department "special government employee" while also holding paid positions with the Clinton Foundation and Teneo Holdings, a consultancy with international clients co-founded by a foundation official who also was Bill Clinton's long-time personal aide
See full story here

A Government Accountability Office report out today found poor monitoring of Abedin's overlapping roles at the State Department

Agencies face "weak internal coordination and misunderstanding" about the "special government employee" job, GAO said in review prompted by Republican Senator Chuck Grassley

Green Party candidate Jill Stein told CNN today that Clinton's use of a private e-mail server as secretary of state "raises real questions about her competency"; she declined to say whether she believes Clinton should have faced criminal charges
Clinton backer and former Defense Secretary Leon Panetta urged Americans to "move on" from Clinton's e-mails and concentrate on "real issues"

ON THE TRAIL
Vice President Joe Biden hit the trail today with Clinton in his childhood hometown of Scranton, Pennsylvania, where he mocked Trump as a clueless cynic who's already posing a threat to U.S. security; see full Bloomberg story here
Biden told the crowd that part of the point of his upcoming trip to Europe is to reassure NATO allies that are "worried" about Trump's rhetoric on the defense alliance
Clinton said Trump has been "all over the place" on anti-terrorism policies because he "has no plan"; she criticized the GOP nominee for talking about using U.S. ground troops

"That is off the table as far as I am concerned," Clinton said

Clinton stressed that with her as president the United States "will prevail" over Islamic State

"There is no doubt in my mind"

Trump today in Youngstown, Ohio, proposed "extreme vetting" for immigrants and vowed to establish a commission on "radical" Islam; he also called to temporarily suspend immigration from volatile regions and said only people viewed as likely to flourish in the U.S. should get visas

RUSSIA AND MANAFORT
Trump campaign chair Paul Manafort rejected a New York Times report that said he was listed in ledgers disclosing payments during former Ukrainian President Viktor Yanukovych's administration

"I have never received a single 'off-the-books cash payment' as falsely 'reported' by the New York Times, nor have I ever done work for the governments of Ukraine or Russia," Manafort said in a statement to Bloomberg
"The suggestion that I accepted cash payments is unfounded, silly and nonsensical," he said

Clinton campaign manager Robby Mook called on Trump to disclose any pro-Kremlin ties in his political operation, citing "pro-Putin policy stances adopted by Donald Trump" and recent Russian government hacking and disclosure of Democratic Party records

DNC also pushed for the Trump camp to disclose any Russian ties
"Our Democracy depends on free and fair elections, and the American people deserve to know if the Trump campaign is being influenced in any way by a foreign power," DNC spokesman Mark Paustenbach said in a statement

Bloomberg's  Laurence Arnold looks at the Trump-Putin bond that "may or may not be real"; see QuickTake Q&A here

TRUMP & THE PRESS 
Trump rejected various news stories and commentary this weekend by excoriating the "dishonest" media and criticizing "certain Republicans" who lost to him in the GOP primary and now seek to "save face by fighting me than see the U.S. Supreme Court get proper appointments. Sad!"

"If the disgusting and corrupt media covered me honestly and didn't put false meaning into the words I say, I would be beating Hillary by 20%," Trump said via Twitter yesterday

He also made clear he has no plans to change

"The failing @nytimes, which never spoke to me, keeps saying that I am saying to advisers that I will change. False, I am who I am-never said": Trump

At least one Trump supporter said he would welcome at least one change

"I'm hoping he gets a lot more boring," former Republican Senator Rick Santorum, who endorsed Trump in May after losing to him in the GOP primaries, told CNN

POLLS/PREDICTIONS
While Trump is competitive in Ohio, averaging a 2- to 3-pt deficit, he's lagging by 5-10 pts in Michigan, Pennsylvania and Wisconsin, "critical states for his blue collar strategy to work," according to Cook, citing Real Clear Politics averages of polls in individual states

Trump holds "minuscule leads in Arizona and Georgia, two states that we are generously putting in the Lean Republican column," Cook wrote. "Clinton leads in every state carried by President Obama in 2012 plus North Carolina, which went for Obama in 2008"
Romney won North Carolina in 2012 with 50.6% vs 48.4% for Obama
Bloomberg's Arit John looks at North Carolina's changing demographics and the prospects of the Tar Heel State turning Democrat "blue" this year; see story here

Meanwhile, Trump hasn't developed much of a ground operation in North Carolina; it's not even clear where his campaigne is headquartered there, BuzzFeed reported
Trump over the weekend had a northern focus as he campaigned Saturday in Connecticut, a state that hasn't voted for a GOP presidential nominee since 1988

Trump said he's making a "big move" for Connecticut, CBS News reported; Real Clear Politics average of two polls shows Clinton ahead by 7.5 points in the state

In neighboring New York, Clinton is leading Trump by 30 points in a Siena College poll

With four candidates, Clinton leads by 25 points

A USA Today/Rock the Vote poll shows Clinton leading Trump 56% to 20% among those under 35, though the Democratic nominee hasn't generated the same levels of enthusiasm as her former rival Senator Bernie Sanders, according to the newspaper

ETC
Obama will interrupt his two-week family vacation on Martha's Vineyard to headline a Democratic Party fundraising dinner tonight on the tony Massachusetts island, according to AP

The event at the home of Democrats Hank and Carol Goldberg is expected to draw about 60 donors; tickets cost as much as $33,400, with proceeds going to Clinton's campaign, the Democratic National Committee and state parties nationwide, party officials said

As swing voters decline, Trump and Clinton are not shifting to the ideological center, Bloomberg's Sahil Kapur reported; see story here
GOP Representative Mark Sanford, a former governor of South Carolina, implied he may stop backing Trump if the Republican candidate doesn't release his tax returns; see Bloomberg report here

CONGRESSIONAL RACES
AZ-SEN: KelliPAC, a super-PAC that backs Republican ex-state Sen. Kelli Ward, released ad saying Sen. John McCain "betrayed us" on immigration "amnesty" and also aligned with liberals to "bail out Wall Street" and backed Clinton's "disastrous war in Libya"

Ward trying to unseat McCain, who's seeking a sixth term, in Aug. 30 primary; Democratic nominee is Rep. Ann Kirkpatrick

FL-SEN: Republican developer Carlos Beruff released TV ad featuring individuals who criticize Republican Sen. Marco Rubio, including one woman who says "we don't need any more career politicians"

Primary is on Aug. 30; Rep. Patrick Murphy favored over Rep. Alan Grayson in Democratic contest

IN-SEN: Senate Leadership Fund, a Republican super-PAC, released TV ad that said Democratic ex-Sen. Evan Bayh voted with Obama and Clinton "when it counted"

Ad accuses Bayh of voting for a "national energy tax that would have tripled our energy bills"; refers to 2003 proposal from McCain and Conn. Democrat-turned-independent Sen. Joe Lieberman to reduce greenhouse gases
Ad says that Bayh was the ''deciding vote'' for Obama's health-care law, reprising common attack from Republican groups on numerous Democratic senators who backed legislation that advanced with bare minimum of 60 votes in Dec. 2009

AZ-04: FreedomWorks PAC, which has a libertarian bent, endorsed Republican Rep. Paul Gosar in statement that said he has been ''leading the charge against the out-of-control regulatory state in the House''

Gosar is opposed in the Aug. 30 primary by Ray Strauss, a minister and former Buckeye city councilman; district includes parts of central and western Ariz. and is strongly Republican

FL-23: Rep. Debbie Wasserman Schultz and law professor Tim Canova held Democratic primary debate yday on Miami CBS program ''Facing South Florida"; watch the debate

Strongly Democratic district includes parts of Broward and Miami-Dade Counties and voted overwhelmingly for Clinton over Bernie Sanders, who is backing Canova

HI-01: Democrat Colleen Hanabusa was runaway winner in Aug. 13 Democratic primary and is strongly favored to win urban Oahu district she previously held from 2011-15

Hanabusa also running in Nov. 8 special election to fill remainder of term won by Democrat Mark Takai, who died last month; candidate filing began today and runs through Aug. 25

IN-04, IN-05: Republican Reps. Todd Rokita and Susan Brooks will run for re-election after being selected by party officials Aug. 13 to fill the Nov. ballot vacancies caused by their brief campaigns for governor

Under Indiana law, Rokita and Brooks relinquished Republican nominations when they applied to succeed Republican Gov. Mike Pence on ballot after Pence became Trump's vice-presidential running mate; party officials picked Lt. Gov. Eric Holcomb instead
NOTE: Both districts are strongly Republican

MI-07: Republican Rep. Tim Walberg in TV ad highlighted his support for expanding vocational training and said ''not everyone will pursue a college degree, but everyone deserves a chance at a good job''

Walberg has won all four of his terms with less than 55% of the vote in southern Mich. district where his Democratic challenger this year is state Rep. Gretchen Driskell

WY-AL: Kentucky Sen. Rand Paul is backing state Sen. Leland Christensen over lawyer Liz Cheney in a primary tomorrow that ''puts the big-government Republicans against the constitutionalist Republicans,'' Paul said in interview with the Washington Post

Cheney, eldest daughter of former Vice President Dick Cheney, is best-known candidate seeking to succeed retiring GOP Rep. Cynthia Lummis
Before it's here, it's on the Bloomberg Terminal.
LEARN MORE