Linde, Praxair Hold Talks on Possible Industrial-Gas Megamerger
by , , and
Possible deal said to be valued at more than $30 billion

Antitrust obstacles seen, especially in Brazil, Baader says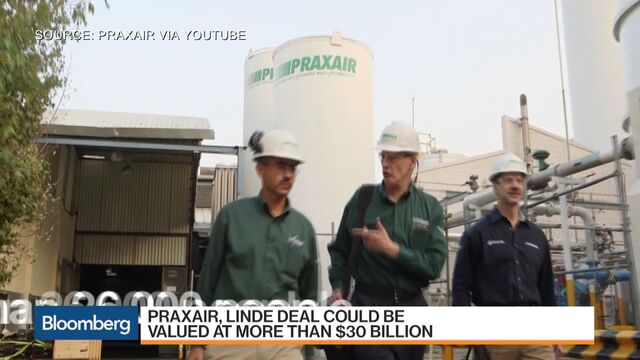 Linde AG and Praxair Inc. are holding talks to combine, setting up a potential deal that would create the world's largest supplier of industrial gases.
The all-stock deal, which could be valued at more than $30 billion, may be reached as early as the coming weeks, according to people familiar with the matter. The preliminary discussions may not lead to a transaction, the companies said in separate statements Tuesday, confirming media reports.
A tie-up between Praxair and Linde would further fuel a wave of consolidation in the industry and attract scrutiny from antitrust regulators. France's Air Liquide SA, which counts refineries, soda bottlers and welders among its customers, completed its biggest purchase in May when it bought Airgas Inc. of the U.S. for $13 billion. That left only four major suppliers, including Praxair, Linde and Air Products and Chemicals Inc.
"The antitrust obstacles are as clear as the economic logic is clear," said Jason Miner, an analyst at Bloomberg Intelligence. "You'd create much more advantage for the larger bidder but that would also significantly reduce competition."

The two sides have discussed potential asset sales to address antitrust concerns, said the people, who asked not to be identified as the negotiations are private. Linde and Praxair also see significant cost savings from any combination, they said.
Praxair, which supplies gases such as oxygen, nitrogen and carbon dioxide, had a market value of $33.7 billion based on Monday's closing price. Linde, a gases and engineering company, was valued at 25.9 billion euros ($29 billion).
Linde shares jumped 10 percent to 153.30 euros at 4:22 p.m. in Frankfurt, the biggest intraday advance since December 2008. Shares of Danbury, Connecticut-based Praxair climbed 5.2 percent to $124.22. The Wall Street Journal reported on the discussions Monday.
While the companies have considered such a combination for years, the takeover of Airgas by Air Liquide, announced in November, triggered renewed discussions, the people said. Those negotiations progressed in recent weeks and the two companies are negotiating the terms of a deal including the share-swap ratio, management roles, asset sales and cost savings, they said.
Health Industry
Linde, Air Liquide and Praxair have all expanded into health care by supplying gases used to treat chronic illnesses like asthma and diabetes, a move that helped cushion a drop in demand for industrial gases and engineering projects. Linde's purchase of American HomePatient at the end of last year is helping offset reductions in rates paid for respiratory services in North America.
Linde's second-quarter profit dropped as growth in health care failed to offset a fall in demand from industrial customers. Earnings sank 25 percent at the engineering division, which helps build gas installations at sites like factories and refineries. Praxair last month said volumes declined in the second quarter in the North American industrial gases business because of weakness in energy and manufacturing.
A Praxair-Linde deal would be the third-largest chemicals transaction announced this year, after Bayer AG's unsolicited $63 billion bid for Monsanto Co. and China National Corp.'s proposed $46.3 billion takeover of Syngenta AG.
"In our view, the merger (or takeover) might come from Praxair and not Linde as Linde has still a long agenda of housekeeping items and Praxair has a higher valuation and a stronger balance sheet," Markus Mayer, an analyst at Baader Bank AG, wrote in a note.

Potential antitrust issues could particularly arise in Latin America, especially in Brazil, he said. In North America, where Linde's business is mainly health-care gases, the large market share of the resulting business "might not be an issue," he wrote. He doesn't see many competition issues in Europe either.
While Linde has a slight smaller market value than Praxair, the German company's 2015 sales of $19.9 billion in dollar terms last year were almost double the U.S. company's $10.8 billion.
(An earlier version of this article corrected the spelling of the analyst's name in the 12th paragraph.)
Before it's here, it's on the Bloomberg Terminal.
LEARN MORE