Pence Plays Down Trump Campaign Intrigue, Even About Him
A recent TV interview showed how a man known for his message discipline has found himself in an odd role for a running mate.
By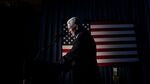 About two-thirds of the way into his interview this weekend on "Fox News Sunday," Republican vice-presidential candidate Mike Pence found himself answering again for the man at the top of his ticket: Donald Trump.
This time, Pence, 57, was asked what he would tell a voter who was not enthralled with Democrat Hillary Clinton, but couldn't back Trump after some of his more inflammatory comments, such as claiming that President Barack Obama and Clinton are the co-founders of the Islamic State.
"I would say stay tuned," Pence said. "It's very early in this campaign."
The interview showed how Pence, a man known for his message discipline after more than two decades as a Republican warrior, has found himself in an odd role for a running mate. Rather than playing attack dog on behalf of the nominee, the Indiana governor often finds himself trying to clarify Trump's words, or attempting to mend fences with Republicans who have turned cold. 
'Different Styles'
"I couldn't be more honored to be campaigning shoulder to shoulder with a man who I believe is going to be the next president of the United States," Pence said when asked on Fox about his role as Trump's clean-up man. "We have different styles."
Even as he tried to shift perceptions on Sunday, he was agreeing with Trump's Islamic State comment with a more complex argument. Obama's feckless Middle East policy "created a vacuum of leadership in which ISIS was created," he told a Denver television station.
While winning over converts has proven tricky for Trump himself, his running mate managed to notch at least one last week in a battleground state. Pence has attempted to energize the faithful and gain ground 300 voters at a time in a string of appearances in battleground states. 
At Wednesday's rally in Ohio, Pence was confronted with an unhappy state representative who said he was denied VIP seating because of his positive tweets about John Kasich, the Ohio governor who refuses to back Trump.
Niraj Antani, the 25-year-old Ohio lawmaker who received a call from Pence following the episode in Moraine, said Pence's Midwestern stability and ability to communicate a conservative message will prove important in crucial states including Ohio, Wisconsin, and Pennsylvania. He was not expecting a personal call from Pence and—as a backer of Kasich in the primary—he left the rally more enthused about the Trump campaign.
"Donald Trump plays to voters who are angry and frustrated and want that bombast. Mike Pence is playing first and foremost to voters who did not support Donald Trump in the primary, and he appeals to independent voters who really don't like Hillary Clinton and are looking for a reason to vote for Donald Trump," Antani said. "Mike Pence provides that level of comfort."
Earlier, when Trump put himself at odds with some party elders over his refusal to endorse Senator John McCain of Arizona and House Speaker Paul Ryan's re-election fights, Pence did it on his own.
The Wall Street Journal reported on Friday that Pence personally reached out to three of Trump's most prominent foes in the GOP—Texas Senator Ted Cruz, former Florida Governor Jeb Bush, and Kasich—to attempt to broker a peace. 
Pence's Rallies
From the start, Pence rallies are markedly different from Trump's. Crowds are smaller—think auditoriums and wedding-reception ballrooms rather than the 20,000-seat arenas Trump has been known to frequent.  
Pence's rallies always start the same way: He walks out to "All Right Now" by the classic rock group Free. In a calm voice he'll open with "Hello, Ohio." Or Pennsylvania. Or Iowa.
He then tells his own story and relates the telephone call in which Trump asked him to join the ticket. Trump regularly admonishes him to stop being so modest, according to Pence. He likes to refer to himself as a B-list Republican celebrity.
After speaking for about half an hour, Pence will typically take a handful of friendly audience questions. When it wraps up, he'll linger and shake some audience hands as country music plays.
For Pence, this nice-guy strategy may be working. A Gallup poll released Aug. 10 showed his post-convention favorability rating climbing faster than Democratic counterpart Tim Kaine. Thirty-six percent of those tallied had a good impression of him, double the 18 percent he registered before the Cleveland nominating gathering. Kaine, meanwhile, saw his own favorability rise to 33 percent from 24 percent, according to Gallup.
"He gives people a comfort level," said Antani. "I agree with a lot of the things Donald Trump says, but maybe Mike Pence says them in a very balancing way. He's got a balancing effect on the ticket."
Before it's here, it's on the Bloomberg Terminal.
LEARN MORE