markets
Paulson Maintains SPDR Gold ETP Stake as Metals Prices Rally
By
At end of June, Paulson & Co. owned 4.8 mln SPDR Gold shares

Gold futures have climbed 27 percent this year on Comex
Billionaire hedge-fund manager John Paulson maintained his holding in the world's biggest exchange-traded product backed by gold as prices posted the best first half in almost four decades.
At the end of June, Paulson & Co. owned 4.8 million shares of SPDR Gold Shares, a U.S. government filing showed. That was unchanged from the end of March, when the firm cut its stake for a second straight quarter.
Gold futures have climbed 27 percent this year, including a 25 percent surge in the first half that was the biggest such rally since 1979. Demand for gold as a store of value has risen as borrowing costs in the U.S. remain low, while central banks around the world take steps to boost growth. Investors poured $5.4 billion into SPDR in the three months ended June, taking their gold holdings in the ETF near the highest since 2013.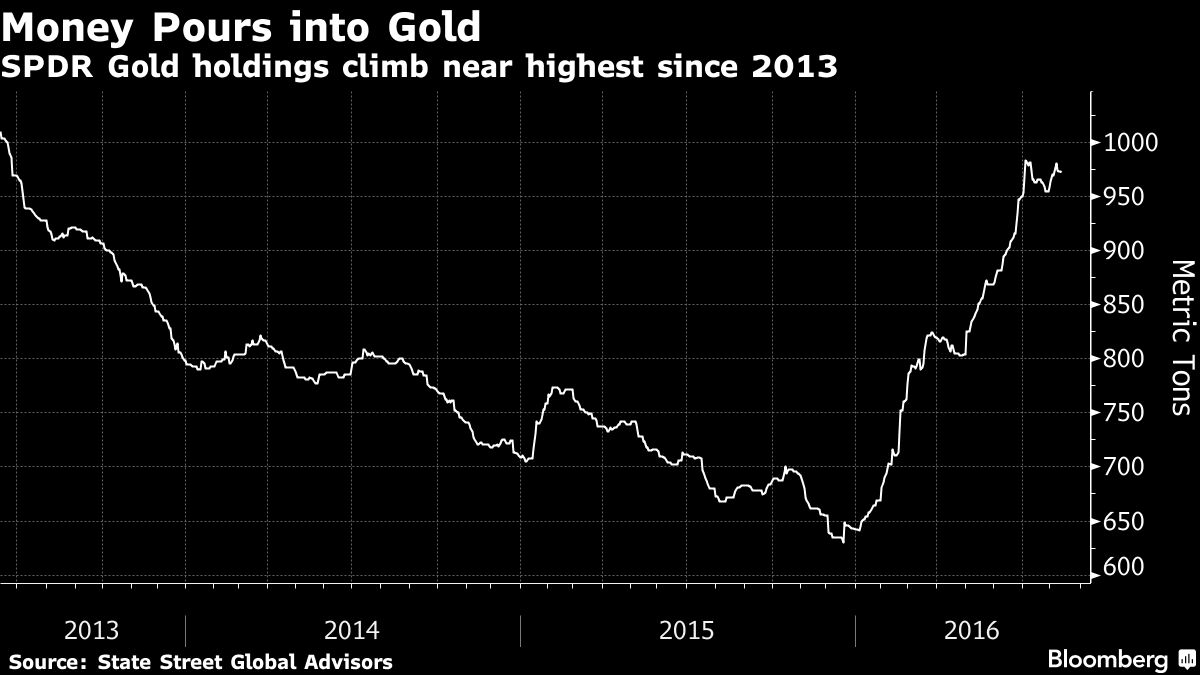 Precious metals are benefiting as investors seek alternative assets, with yields falling below zero on about $9 trillion in government debt tracked by the Bloomberg Global Developed Sovereign Bond Index. That means those who buy the debt and hold to maturity stand to lose money.
Money manager Bill Gross said this month that investors should favor gold and real estate while avoiding most stocks and bonds trading at inflated prices. In the case of Loews Corp., a "relatively modest investment" in gold equities generated "out-sized'' returns, Chief Executive Officer Jim Tisch said at an earnings conference call Aug. 1.
Paulson started his foray into gold in early 2009, betting that prices would rise amid unprecedented monetary stimulus. Bullion climbed 70 percent from December 2008 to June 2011 as the Fed bought debt and held borrowing costs near zero percent. Prices slumped to a five-year low in December before the central bank raised U.S. rates.
Paulson uses the SPDR ETF to back his funds' gold share classes, which offer holdings denominated in bullion for investors interested in decoupling their assets from the value of the dollar.
Even miners of the metal are luring more investors. A gauge of 14 senior global gold producers has more than doubled this year. Loews, the holding company run by New York's Tisch family, was able to counter low bond yields and stock-market volatility in the first half of this year with gold-related investments that doubled in value.
Traders put the odds that the Fed will raise U.S. rates by December at less than half, according to Fed-fund futures data compiled by Bloomberg. Government data showed last week that retail sales stalled in July, while wholesale prices unexpectedly fell.
Armel Leslie, a spokesman of New York-based Paulson & Co. with Peppercomm, didn't immediately return a call and e-mail seeking comment after regular business hours.
(
Adds gold index, Fed rate odds starting in eighth paragraph.
)
Before it's here, it's on the Bloomberg Terminal.
LEARN MORE