Odd Lots: How Billionaires Tell the Story of Brazil's Boom and Bust
By and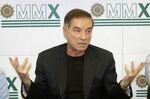 Subscribe to Bloomberg Odd Lots on iTunes Podcasts
Subscribe to Bloomberg Odd Lots on Pocket Casts 
Every week, hosts Joe Weisenthal and Tracy Alloway take you on a not-so-random walk through hot topics in markets, finance, and economics. 
The 2016 Summer Olympics in Rio de Janeiro have been tainted by protests, economic slowdown, and a massive political scandal. In this episode we take a look at Brazil's boom and bust as told through the prism of the country's elite.
Alex Cuadros is the author of "Brazillionaires: Wealth, Power, Decadence, and Hope in an American Country." He tells how a commodities boom gave rise to larger-than-life Brazilian billionaires including mining mogul Eike Batista, soybean farmer-turned-senator Blairo Maggi, and beer-and-burger-king Jorge Paulo Lemann. He tells us why 'Brazillionaires' sometimes argue over their place on public wealth rankings, what happened when Batiste's Porsche went missing, and how Brazil's billionaires favor dead bugs in their decorating.
Before it's here, it's on the Bloomberg Terminal.
LEARN MORE