Japanese Shares Slip on Thin Volumes as Papermakers Lead Drop
by and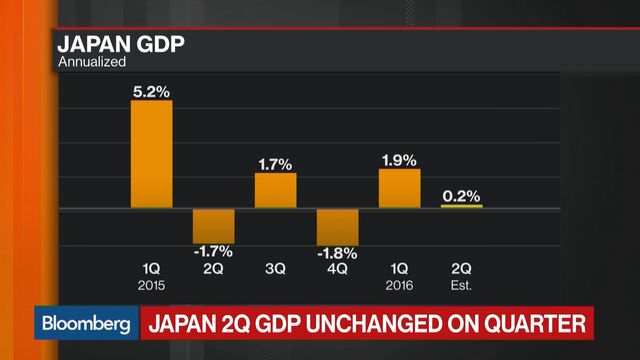 Shares in Tokyo fell amid light trading as paper producers and shipping companies led declines after Japan announced slower economic growth than analysts forecast.
The Topix index dropped 0.5 percent to 1,316.63 at the close in Tokyo. Volume was almost 40 percent below the 30-day average on Monday, when many in Japan celebrated the Obon holiday. The gauge climbed 3.4 percent last week, its best performance since mid-July. The Nikkei 225 Stock Average lost 0.3 percent, while the yen rose 0.1 percent to 101.20 a dollar after adding 0.7 percent on Friday.
Japan's second-quarter gross domestic product climbed an annualized 0.2 percent, missing economists' estimates for a 0.7 percent increase, as business spending contracted for a second straight quarter and exporters struggled with the resurgent yen. 
While Japan's GDP data wasn't a huge surprise, it shows "the country continues to be on a very fragile growth track," said Ayako Sera, a Tokyo-based market strategist at Sumitomo Mitsui Trust Bank Ltd. "The market will be focused on how the government's planned 28 trillion yen ($276 billion) stimulus package will be executed going forward for cues on the economy."
U.S. Sales
Futures on the S&P 500 Index climbed 0.2 percent. The underlying measure lost 0.1 percent Friday after hitting a record high. Sales at U.S. retailers were little changed in July, missing economists' forecasts for a 0.4 percent increase month on month. Stagnant retail sales helped keep a lid on U.S. rate hike bets, with odds of the Federal Reserve boosting borrowing costs by the end of 2016 holding below 50 percent.
"The U.S. economy may have lost a bit of momentum on its way up," said Shoji Hirakawa, chief global strategist at Tokai Tokyo Research Center. "Still, weak numbers mean concern over tightening recedes," which is positive for stocks, he said.
Paper producers, shippers and insurance companies slumped among the 33 Topix industry groups, while telecommunication shares and food companies led gains.
Hokuetsu Kishu Paper Co. tumbled 9 percent after reporting earnings. The paper-maker's operating profit of 3.5 billion yen is slightly below expectations, according to SMBC Nikko Securities Inc. analyst Hiroyuki Okaseri.
Citizen Holdings Co. dropped 8.8 percent, its biggest decline since June 24, after the company slashed its half- and full-year forecasts for fiscal year 2016.
Toshiba Corp. rose 6.3 percent after the company reported Friday that it swung to profit in the June quarter and raised its profit forecasts for the first half of this year.

The Topix climbed last week amid optimism over the health of the U.S. economy and purchases of exchange-traded funds by the Bank of Japan. The central bank's ETF buying is a big support to Japanese equities and is a prominent influence in a quiet market given many investors are on summer vacation, Tokai Tokyo's Hirakawa said. Though Obon, where people honor the spirits of their ancestors, isn't a public holiday, many in Japan take time off from work.
Before it's here, it's on the Bloomberg Terminal.
LEARN MORE