How the BOE's Stimulus Measures Up to the ECB's
Wells Fargo compares the Bank of England's plan to buy corporate bonds with the European Central Bank's.
By and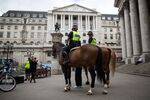 The Bank of England is being decidedly less ambitious than the European Central Bank with its plan to purchase corporate bonds, but it will be no less effective, according to Wells Fargo & Co.
The BOE will buy 10 billion pounds ($12.9 billion) of U.K. company debt over 18 months while the ECB has acquired 16.2 billion euros ($18.1 billion) of notes since June. The British initiative, as a "knee-jerk reaction to the Brexit vote," is also much less lofty in its goals than the ECB, which is buying company debt as part of monetary policy stimulus that's intended to boost inflation, said Wells Fargo & Co. strategists led by Nathaniel Rosenbaum.
The BOE's program is better when it comes to transparency and attaining its stated goals, while the ECB's is superior in terms of its ambitions and scale, they said. These differences matter little though when comparing the market impact of the two:
"We expect a similar effect on spreads of corporates in both markets as central banks rapidly become large and price-insensitive buyers in relatively illiquid markets. ECB QE has already led to a crowding out effect into USD credit, and we expect BoE QE to be no different."
One key difference though could be the BOE's influence on the long end of the U.S. investment-grade credit market.
The average duration of the sterling high-grade market is 9.7 years, compared with 5.4 years and 7.5 years for the euro and dollar markets, according to Wells Fargo analysis of bond index data. What's more, bonds with maturities of 20 years and beyond represent 28 percent of the pool of bonds eligible for the BOE's program, known as CBPS, compared with just 1 percent for the ECB.

Given these technicals, U.K. investors could increase their demand for long-duration exposure in dollars given the prospect of higher real yields relative to the domestic market, the analysts said.
"The CBPS universe is heavily weighted toward the long end of the curve, and therefore we would expect any ensuing crowding out to be focused on the long end of the USD curve given that the predominantly UK insurance investor base has a natural need for duration. In comparison, USD IG credit curves are relatively steep at the moment and offer an incremental yield pick-up that is nearly double what it was pre the Brexit vote."
The Wells Fargo analysts also reckon foreign issuers are likely to increase their issuance thanks to favorable credit market conditions amid FX volatility. They said:
"This creates an environment where foreign issuers with UK operations are more likely to re-onshore their issuance needs into the GBP market rather than fund in USD or EUR and hedge, since those hedging costs have risen significantly."
Before it's here, it's on the Bloomberg Terminal.
LEARN MORE