Hedge Funds Are Losing Endowments After Exodus of Pensions
by
Nonprofit investors are reducing allocations, survey finds

High fees, sagging performance of hedge funds are big concern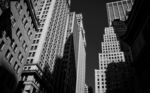 Following the lead of pensions, some U.S. endowments and foundations are souring on hedge funds.
Hedge fund fees and lagging performance are cause for concern for nonprofit investors, who are reducing their allocation, according to a survey published Monday by NEPC, a Boston-based consulting firm with 118 endowment and foundation clients with assets of $57 billion.
More than a quarter of 59 respondents said their investment committees reduced or were considering lowering their allocations to hedge funds. Of those that made changes, almost half said they put that money into public equities. NEPC conducted the survey in July, polling business officers of universities, foundations and other nonprofits on their market outlook and asset allocation. About one-third of the respondents were universities.
"The last several years have been difficult for the industry and investors are starting to look very closely at how hedge funds can work for them," Cathy Konicki, who oversees the company's endowment and foundation business, said in a statement.

This month, the New Jersey Investment Council voted to cut its $9 billion hedge fund portfolio in half. Endowments and foundations are struggling with returns, and most are expecting losses for the year that ended in June. The survey indicates other institutional investors are following similar strategies to some pension funds, as a quarter of respondents said they had no exposure to hedge funds in their portfolio. Only 2 percent of those surveyed two years ago had no hedge funds.
"These survey results are by no means indicating a mass exodus from hedge funds, but they do point to greater pressure being felt by the industry as a whole," Konicki said.
For a quick look at endowments, click here
Hedge funds typically charge a 2 percent management fee and 20 percent of profits. The industry, extending its rebound from the worst start to a year on record, posted an average 1.3 percent return this year through July, according to Hedge Fund Research Inc., while the S&P 500 Index gained 7.7 percent in that span.
A quarter of survey respondents said they have asked for reduced fees or have been offered them by managers within the last six months.
(
Updates with background on respondents in third paragraph.
)
Before it's here, it's on the Bloomberg Terminal.
LEARN MORE