Germany Urges Russia, Ukraine to Cool Tensions Over Crimea
by and
Russia ready to provide proof of Ukraine attack, Lavrov says

Ukraine conflict resolution has stalled, Steinmeier says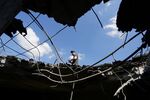 German Foreign Minister Frank-Walter Steinmeier urged Russia and Ukraine to reduce tensions over Crimea amid what he said was contradictory evidence from the two countries of an alleged attack on the peninsula.
Germany is concerned about worsening security in Crimea and all sides "must refrain from anything that may lead to a further deterioration of the situation," Steinmeier told reporters after talks with Russian Foreign Minister Sergei Lavrov in the Urals city of Yekaterinburg on Monday. There's still "no full clarity" about what happened "and we're waiting for the results of investigations by the Russian and Ukrainian sides," he said.

There's no need at this point for the "extreme measure" of breaking off diplomatic relations with Ukraine, Lavrov said. It's important to stabilize the situation and "not give in to emotions," though Russia's ready to provide "irrefutable evidence" that Ukraine planned attacks in Crimea to destabilize the peninsula, he said.
The talks took place after President Vladimir Putin threatened a "very serious" response last week when he accused Ukrainian agents of killing two Russian servicemen in Crimea, triggering the worst diplomatic standoff between the countries since the 2015 Minsk truce deal eased hostilities in the separatist conflict in eastern Ukraine. Russia bolstered its military forces in Crimea, which it annexed in 2014. The European Union said there was no independent confirmation of the killings.
Markets React
The ruble advanced the most in emerging markets and the cost of insuring Russian debt against default dropped as Steinmeier sought to ease the tensions over Crimea. The currency climbed 0.6 percent to 64.3747 at 1:59 p.m. in Moscow, reversing losses on Friday triggered by Putin's warning. Five-year credit-default swaps fell five basis points to 226, curbing an increase since Putin's comments to 16 basis points.
Ukrainian bonds slipped for a fourth day, with the yield on the government note due in 2026 rising by one basis point to 8.27 percent. The hryvnia was little changed at 25.0850 per dollar at 1:34 p.m. in Kiev.
Ukraine said a Russian military buildup is continuing. Additional troops and anti-aircraft missiles were sent to eastern Ukraine, while "a strong group is located in the north of Crimea which in case of further reinforcement may perform large-scale actions," Vadym Skybytskyi, head of the Ukrainian Defense Ministry's intelligence department, told reporters in Kiev on Monday. Russia denies that its troops are in eastern Ukraine.
'Military Threats'
Russia deployed S-400 Triumph air defense systems in Crimea, the Moscow-based RIA Novosti news service reported on Friday. Putin discussed bolstering Crimea's defenses with his Security Council on Thursday.
Ukrainian President Petro Poroshenko, who spoke with U.S. Vice President Joe Biden on Friday, has dismissed Russia's accusations as "fiction" that could be an "excuse for further military threats" against his country. He put the military on alert along the contact line with separatist forces and the frontier with the Black Sea territory.
Poroshenko will have phone talks with German Chancellor Angela Merkel and French President Francois Hollande on Monday, Ukrainian Deputy Prime Minister Ivanna Klympush-Tsintsadze said in an interview to the Hromadske TV channel Sunday.
Russian Prime Minister Dmitry Medvedev said last week that diplomatic ties with Ukraine may be cut after what he said was a Ukrainian incursion into Crimea, which he called a crime that needs to be investigated, the Interfax news service reported.
Stalled Peace
The Crimean crisis erupted as efforts to resolve the conflict between government forces and pro-Russian rebels in eastern Ukraine have stalled, Steinmeier said. The Minsk accords remain in effect and still provide the best way to achieve peace amid a surge in violence in the area, he said.
Russia will use its influence with the separatists to reduce tensions, Lavrov said as he and Steinmeier met with university students in Yekaterinburg earlier Monday, according to Interfax.
The intensified violence in eastern Ukraine torpedoed plans to revive peace talks at the September Group of 20 meeting in China and raised warnings from analysts of a potential military conflict before Russia holds parliamentary elections in September.
Russia is still "far" from fulfilling conditions for the EU to consider lifting sanctions imposed over the Ukrainian crisis, while progress in the peace process is "sobering," German Foreign Ministry spokeswoman Sawsan Chebli said Monday.
Before it's here, it's on the Bloomberg Terminal.
LEARN MORE