Five Things You Need to Know to Start Your Day
by , , and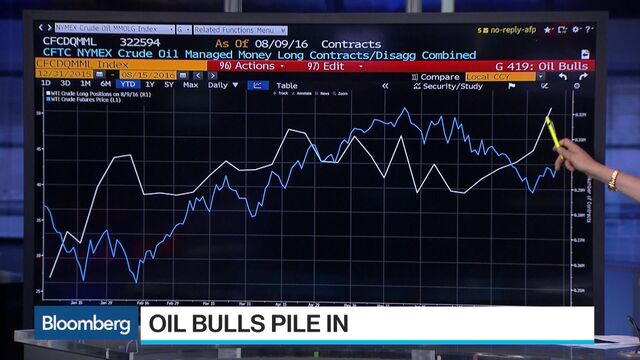 Want to receive this post in your inbox every morning? Sign up here.
Oil's on the rise, Chinese stocks are rallying, and there's a whole slew of data coming up. Here's what people in markets are talking about today.
Oil's looking slick
Oil climbed above $45 a barrel in New York for the first time in three weeks thanks to speculation that crude producers will revive discussions to stabilize the market. The gains follow on from crude's best performance since April last week after the Saudi Arabian energy minister's "verbal intervention" signalling willingness to discuss taking action at next month's informal OPEC talks in Algiers. West Texas Intermediate for September delivery rose as much as 64 cents to $45.13 a barrel on the New York Mercantile Exchange, the highest since July 21. Money managers increased wagers on rising crude prices by the most since January as futures rebounded from a three-month low. 
China stocks, bonds diverge
The rally in commodities and the grind-lower in benchmark government bond yields has prompted a rally in emerging market assets with Chinese equity markets in particular cheering thanks to expectations that an exchange link between Hong Kong and Shenzhen will go live in the coming months. The Shanghai Composite Index gained 2.4 percent, marking a seven-month high. The jump in Chinese stocks comes despite weaker-than-expected data released on Friday concerning factory output, retail sales and investment, that fueled worries over a slowdown in Asia's largest economy. These concerns saw the yield on 10-year government debt fall to a decade low, while the yuan in trading today declined to its lowest level against the dollar in a week.
Brexit by the numbers
The U.K. is due to publish inflation data tomorrow which will offer the first hard look as to the impact of the Brexit vote on price stability and the Bank of England's flexibility to unleash stimulus. Sterling's decline could see a rise in the consumer prices index, which is forecast to hit 0.5 percent in July — the same rate of expansion as June — and thereby challenge the BOE's bid to aid the economy while respecting its 2 percent inflation target. Homes in the U.K.'s capital are staying on the market for five days more than in May, the month before Britons voted to leave the European Union, according to a report from Rightmove Plc, and millennials are losing out as pension-fund liabilities balloon to a record 1 trillion pounds ($1.3 trillion).
Japan's slowdown
Japan's economy grew less than forecast in the three months through the end of June as business spending contracted for a second-straight quarter and exporters struggled with the resurgent yen. GDP expanded by an annualized 0.2 percent in the second quarter - less than the median estimate of economists for a 0.7 percent increase. After the data release, the Topix index slipped 0.5 percent as of 5:06 a.m. ET and the yen strengthened from 101.18 to 100.93 against the U.S. dollar. The plus side of the yen's rise and Japan's ongoing deflation: people can afford more ramen. Meanwhile, the International Monetary Fund is urging the country to pursue a pretty radical plan to boost wages and increase prices. 
Coming up...
It could prove to be a quiet summer week for markets but we're expecting a relatively busy few days for statistics. Away from the U.K., we'll be receiving a bevy of economic data points this week starting in the U.S. with the NAHB Housing Market Index on Monday, followed by CPI, housing starts, and industrial production on Tuesday. We'll also get a further peek into the health of the U.S. consumer following Friday's disappointing retail sales report when Wal-Mart Stores Inc., Home Depot Inc., and Target Corp. release second-quarter results. In Asia, Japan is due to publish trade figures and China will publish property prices for July.
What we've been reading 
This is what's caught our eye over the weekend.
Before it's here, it's on the Bloomberg Terminal.
LEARN MORE