Fed Orthodoxy Shows Cracks as Another Top Official Urges Rethink
By
Williams says Fed must reconsider policy in low-rate era

Calls for either boosting or scrapping 2% inflation target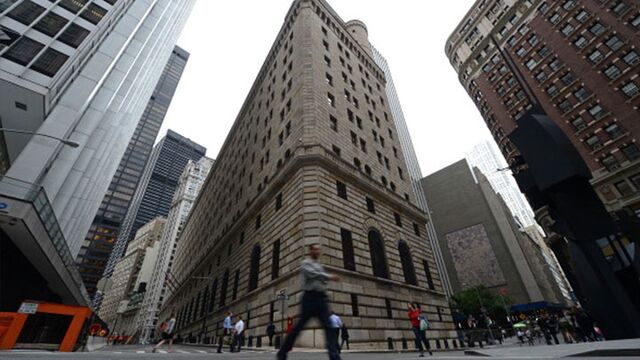 A new economic reality calls for a new approach to central banking.
That's the message a growing number of monetary policy makers are espousing -- and it's a point San Francisco Fed President John Williams is making more forcefully than ever. Williams argues in an essay released Monday that the level of interest rates that neither stimulates nor slows the economy has fallen. In the new low-natural rate environment, the Fed's policy of targeting low inflation will no longer make sense, he said.
QuickTake The Fed Lifts Off, Barely
Williams isn't the first to suggest that the economy is mired in a new normal, or to question the way the Fed is dealing with it. St. Louis Fed President James Bullard is pessimistic about potential growth and says making long-run economic projections is no longer useful. Chicago's Charles Evans says that the Fed should wait to see inflation hit its 2 percent goal before lifting rates, rather than hiking early to avoid an inflation overshoot.
Still, Williams's endorsement helps to mainstream the idea that a new normal merits a new framework. He's a prominent researcher who succeeded Janet Yellen in San Francisco and who is seen as a centrist on monetary policy. His comments suggest that a serious discussion is percolating at or near the core of the Federal Open Market Committee about whether the current policy-setting approach is the right one.

"He is sort of a practical thinker -- he is not extreme one way or another -- and I think he represents in a lot of ways what many people within the Fed are thinking," said Tom Porcelli, chief U.S. economist at RBC Capital Markets in New York. "There is absolutely a rethink going on."
Williams's comments follow former Fed Chairman Ben S. Bernanke's blog last week that the "degree of uncertainty about how the economy and policy will evolve may now be unusually high." Bernanke cited downward revisions to the Fed's view of the neutral interest rate as one of the primary reasons that Fed officials have become more dovish, because it "implies that current policy is not as expansionary as thought."
Williams's analysis centers on the idea that neutral interest rates are poised to stay low. To better adapt, he urges governments to prepare to provide a stronger fiscal backstop and central bankers to consider scrapping the practice of targeting low inflation.
Falling bond yields in advanced economies this year signal that investors have little confidence that economic growth and inflation will pick up over the long term, meaning central bankers won't be able to increase interest rates. Fed policy makers have reduced their projections for the number of rate hikes in 2016 after raising them in December for the first time in almost a decade.
More Forceful
While Williams has previously said that policy makers should explore their alternatives for dealing with a low-rate world and has put forth the idea of a higher inflation target, his essay takes a more forceful tack. The San Francisco Fed chief said in an e-mailed reply to comment on Monday that as evidence of a neutral rate has accumulated, "I have become increasingly convinced of the need to conduct careful study and evaluation" of policy.
"We can wait for the next storm and hope for better outcomes or prepare for them now and be ready," Williams wrote in the essay.
His remarks come ahead of next week's symposium hosted by the Kansas City Fed in Jackson Hole, Wyoming, where top global central bankers and economic thinkers will gather to discuss how to design resilient monetary policy.
"There is simply not enough room for central banks to cut interest rates in response to an economic downturn when both natural rates and inflation are very low," Williams said in the essay. The Fed adopted its 2 percent inflation target in January 2012.
Williams suggested either setting a higher inflation goal or replacing the practice with something else. Options include flexible price-level targeting or aiming for levels of nominal gross domestic product.
New Normal
Shifting demographics, slower productivity and economic growth and the fact that emerging markets are seeking large reserves of safe assets have all lowered the natural interest rate, from 4 percent to 4.5 percent in the short term to a new normal of 3 percent to 3.5 percent, or even lower. Those figures count in inflation.
With less wiggle room, central banks will have to turn to other tools such as balance sheets, communications and "potentially even negative policy rates," he wrote.
On the fiscal side, Williams advocated creating a more robust framework to help stimulate the economy in case of a downturn, since monetary policy will be less powerful. He floated the idea of designing "stronger, more predictable, systematic adjustments of fiscal policy that support the economy during recessions and recoveries," such as tying Social Security benefits or income tax rates to the national unemployment rate.
Even if the Fed begins to look at re-working its strategy, there's no reason to believe that such a move would happen quickly. Williams said he isn't "advocating an abrupt reversal of course," which could be disruptive.
"You have to weigh the costs and benefits of these approaches, and that's something that takes time, because we're in uncharted territory," said Neil Dutta, head of U.S. economics at Renaissance Macro Research LLC in New York.
Before it's here, it's on the Bloomberg Terminal.
LEARN MORE