China Says Other Topics Must Not Divert G-20's Economy Focus
Bloomberg News
G-20 summit is about economic governance, trade, investment

PBOC's Yi says he's confident in yuan internationalization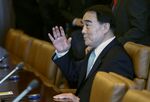 China will seek to keep Group of 20 leaders focused on economic development when they meet next month in Hangzhou.
When asked whether China will allow discussion of the South China Sea issue during the Sept. 4-5 summit meeting, Vice Foreign Minister Li Baodong said leaders shouldn't be distracted by other topics. The G-20 summit is about global economic governance, trade and investment, Li said at the briefing in Beijing on Monday.
"The G-20 summit in Hangzhou is about the economy," Li said. "The consensus is to focus on economic development and not to be distracted by other parties. If we want to do something successfully we must focus on it wholeheartedly, so the Hangzhou summit must focus on economic issues, on how to achieve sustainable, robust and balanced growth."
Leaders of the world's largest economies will gather at a time of slowing trade and tepid global economic growth. China suffered a setback in July when an international tribunal said its efforts to assert control over the South China Sea exceeded the law -- a decision that may empower other claimant states. China has largely ignored the ruling.
Private Investment
On the economic front, China's recent stabilization showed signs of faltering in July as private businesses remain reluctant to invest and authorities seek to curb financial risks and reduce excess capacity. Policy makers have had success restoring calm to the nation's markets, a year after China's shock devaluation of the yuan rocked assets around the world.
Speaking at the same briefing in Beijing on Monday, People's Bank of China Deputy Governor Yi Gang said yuan internationalization is a market-driven process, and its development has surpassed many expectations. Yi said he's confident in the yuan's internationalization process.
The World Bank will issue its first batch bonds denominated in the International Monetary Fund reserve currency known as Special Drawing Rights before the summit, Yi said. China recently authorized the lender to issue $2 billion yuan ($301 billion) of bonds.
"Major financial institutions and other international institutions have also expressed hope to issue SDR denominated bonds on the Chinese inter-bank market," Yi said. "We welcome this and we will continue to develop the infrastructure of our bond market in order to prepare for the further issuance of such bonds and the liquidity of secondary markets."
The central bank said it will give markets a greater role in deciding the exchange rate while keeping the currency basically stable, according to the PBOC's annual yuan internationalization report.