U.K. Millennials Are 'Collateral Damage' From Pensions
by
U.K. pension-fund deficit increased to a record $1.3 trillion

Younger workers will have to save more or work for longer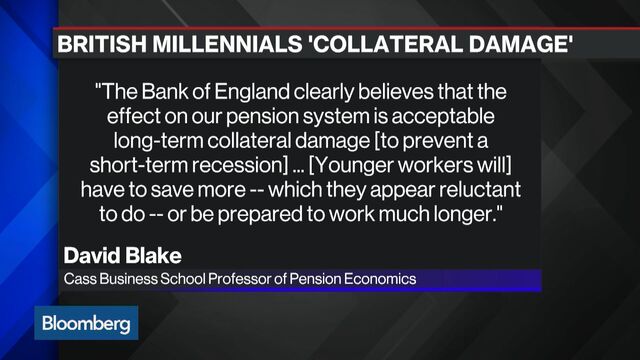 Britain's millennials, already suffering for the economic mistakes of the past, now face the prospect of having to pay for the country's future.
The pension-fund deficit in the U.K. increased to a record 1 trillion pounds ($1.3 trillion) after the Bank of England's interest-rate cut this month, hurt by quantitative easing and razor-thin yields. It's Britain's version of what Duquesne Family Office LLC Chairman Stanley Druckenmiller calls "Generational Theft" in the U.S.
Plunging bond yields have caused pension liabilities to balloon and it could get even worse because the BOE will probably reduce interest rates further this year, according to a survey of economists by Bloomberg. Deficits for defined-benefit-pension funds already rose by more than 40 percent in the two months through July, following the vote to leave the European Union and the central bank's subsequent decision to increase quantitative easing, according to consulting firm Mercer.
'Reluctant' Savers
"The Bank of England clearly believes that the effect on our pension system is acceptable long-term collateral damage" to prevent a short-term recession, said David Blake, professor of pension economics at London's Cass Business School. Younger workers will "have to save more -- which they appear reluctant to do -- or be prepared to work much longer."
The increased bond-purchase program has had a relatively limited impact on pension deficits, according to the minutes of the BOE's Monetary Policy Committee meeting on Aug. 3. While the fund managers have to move into riskier assets, that helps to support the economy, Governor Mark Carney said Aug. 4.
"That makes it less likely that we will have a very long period of high unemployment, low output, and very low interest rates," Carney said. The BOE declined to comment further.
Money managers, however, appear to be unwilling to offload their higher-yielding gilts because they're worried about generating enough returns to pay their members. The BOE last week failed to find enough investors who were prepared to sell their longer-maturity gilts, a slice of the credit market dominated by pensions and insurers.
"Savers in pension funds are being forced into ultra-low yielding securities, which will inevitably post losses over the medium term," Mark Dowding, a partner at BlueBay Asset Management LLP, said on Monday. "This is not a healthy situation."
Companies that run defined-benefit pension funds are also starting to worry. Postal-service operator Royal Mail Plc said last week it may not be able to keep its program running beyond 2018. That's because its annual contributions could more than double to over 900 million pounds.
'Toxic Combination'
"The growing pressures from a slump in U.K. yields will be an increasingly prevalent discussion around the boardroom table of many corporates," Bloomberg Intelligence analysts Jonathan Tyce and Arjun Bowry said in a report last month. "The toxic combination of falling interest rates and rising longevity has more than tripled the aggregate deficit," they wrote, citing data from pension consultant Hymans Robertson.
As many as 1,000 defined-benefit plans are at serious risk of insolvency in the U.K., meaning they may not be able to pay members' pensions in full, the Pensions Institute and Cass Business School said in a December report. The deficit at the U.K. plans is estimated to have risen about 73 percent to 408 billion pounds in the 12 months through July, according to the Pension Protection Fund, which compensates workers when companies become insolvent and have a shortfall in their defined-benefit plans.
The protection fund "may need to adopt facets of its American cousin, the Pension Benefit Guaranty Corp., to address growing pension deficits," Tyce and Bowry wrote in a note on Wednesday. "These include the ability to claim up to 30 percent of a business's net worth and to proactively engage early with weaker employers directly."
The U.K. and Europe also face a wider pension problem: an aging population will have fewer workers to fund state pensions, which may mean higher taxes for employees. Last year, there were four workers for every person aged 65 or more in the European Union. By 2050, there'll be just two, according to Eurostat estimates.
Millennial Savings
Many of the defined-benefit pensions in the U.K. are now closed. That means millennials, who are generally defined as being 35 or younger, will have to rely on their own savings for retirement, while also facing record-high house prices and rising unemployment. The jobless rate for 16 to 24-year-olds was 13.5 percent in May, compared with 4.9 percent for the wider population, according to government statistics.
Young workers "face more risk and expense in providing for their own pensions, both now and in future," said former pensions minister Ros Altmann. "Their employer will also have less cash flow available to pay into younger workers' pensions because of the added and unbudgeted burdens resulting from the increase in defined-benefit-scheme funding."
(
Corrects second paragraph to show 1 trillion pounds refers to pension-fund deficit.
)
Before it's here, it's on the Bloomberg Terminal.
LEARN MORE