Brexit Bulletin: Hedge Funds Against the Pound
Investors brace for hard numbers on Britain's Brexit economy, while hedge funds place record bets.
by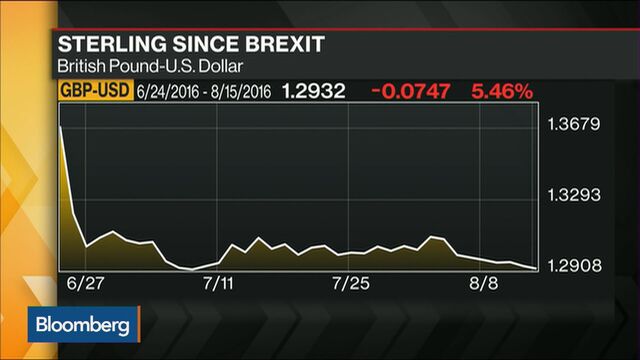 Hedge funds have made record bearish bets against sterling as Brexit pummels the currency, while some analysts believe a pound will be worth the same as a euro in 18 months.
Large speculators raised net bearish wagers on the British currency to the most in Commodity Futures Trading Commission data going back to 1992, Bloomberg's Kevin Buckland and Narayanan Somasundaram report. 
Sterling, which had its worst day on record when the Brexit result became clear on June 23, edged lower on Monday as investors prepare for data this week that will show how consumers, businesses and public finances are responding to the referendum result.

Figures out already today show weakness in the London house market this month. Properties are staying on the market for longer even after sellers cut prices. Still to come this week: inflation, retail sales, unemployment and budget data. 
Whatever the data show, it seems farmers needn't worry: the U.K. will maintain their subsidies after Brexit. Chancellor of the Exchequer Philip Hammond said this weekend the government will maintain EU funding to businesses and universities for projects already approved, and will match agricultural funding until 2020.
This Year, Next Year...?
Prime Minister Theresa May's administration is putting "the full weight of the machinery of government'' into Brexit, her spokesman said today in response to questions about whether the exit process might be delayed.

The Sunday Times reported yesterday that Britain may remain in the bloc until late 2019. Delays in setting up new departments mean the government won't be ready until late 2017 to trigger Article 50, the EU protocol that starts the clock ticking on two years of talks, according to the Times.
"The PM has been very clear about this, that Brexit is a top priority for this government," May's spokesman Greg Swift said in response to the report. He said the formal process won't begin before the end of 2016, a line he repeated when asked whether it would happen in 2017, and whether May might wait until after French and German elections next year to begin the process.  
On the Markets
Stocks rose around the world, led by emerging-markets, as oil climbed further after its best week since April and traders pushed back bets on higher U.S. interest rates. The pound fell 0.1 percent.

And Finally...
Theresa May has told Boris Johnson and Liam Fox to put an end to their turf war, the Times reports. May is "distinctly unimpressed" by the bickering over who has control of the Foreign Office, according to the newspaper.

Before it's here, it's on the Bloomberg Terminal.
LEARN MORE