Biden Blasts Trump's Rhetoric as Threat to U.S. Troops
By and
Vice president makes first joint appearance with Clinton

Obama raises money for Clinton, DNC on Martha's Vineyard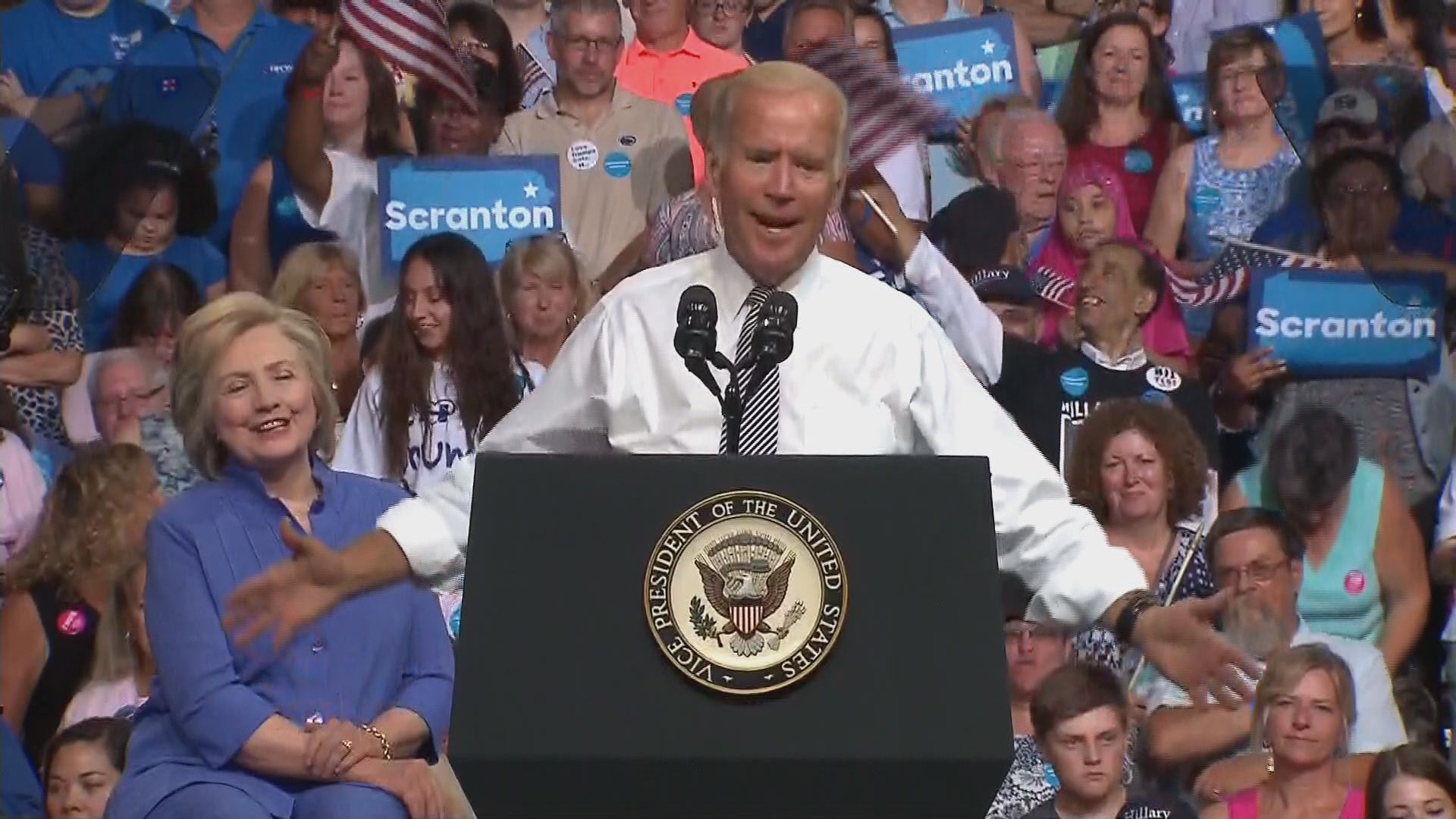 Vice President Joe Biden mocked Republican presidential nominee Donald Trump as a clueless cynic who's already posing a threat to U.S. security in a fiery speech delivered in his first joint campaign appearance with Hillary Clinton.
Biden took the stage in Scranton, Pennsylvania, Monday to vouch for the Democratic nominee's empathy for the working class but then shifted into a scathing attack on Trump's grasp of national security and his remarks about Russian President Vladimir Putin and U.S. allies. He zeroed in on Trump's statement last week that President Barack Obama founded Islamic State, which the Republican has said was meant to be sarcastic.
"Let me tell you why it's a dangerous statement. As he might say, the bad guys are listening," Biden said, citing a reference to it made by the leader of Hezbollah. "If my son were still in Iraq, and I say to all those who are there, the threat to their life has gone up a couple clicks."
Biden spoke less than an hour before Trump delivered a speech on national security in Youngstown, Ohio, like Scranton a battleground for both candidates in the November election. Trump called U.S. foreign policy formulated while Clinton was secretary of state in the Obama administration a disaster that led to the rise of Islamic State.
Rust Belt
Clinton's remarks in Scranton, a city where both she and Biden claim roots, was intended to make the case to Rust Belt voters that she cares about their fate more than Trump does.
She called the economic plan Trump outlined last week a boon for the wealthy and for corporations. Biden reinforced her remarks, saying she "understands the hope and aspirations" of working-class Americans, a category of voters Clinton has had trouble connecting with.
"She gets it," Biden said. "It's more than about her."
While he lavished praise on Clinton, Biden warmed quickly to the subject of Trump.
No major party nominee in U.S. history "has known less or been less prepared to deal with our national security than Donald Trump," Biden said. "On every issue that matters most to our security, Donald Trump has no clue what it takes to lead this great country."
'Pro-Kremlin Interests'
Neither Clinton nor Biden made reference to a New York Times report that a Ukrainian anti-corruption probe unearthed handwritten ledgers showing that the ousted pro-Russian ruling party there made $12.7 million in undisclosed cash payments to Paul Manafort, Trump's campaign manager. Manafort had been a consultant to former Ukraine President Viktor Yanukovych, who was ousted in 2014. Manafort has denied receiving such cash payments.
However Clinton's campaign has taken up the issue. Campaign manager Robby Mook said in a statement that Trump's "pro-Putin policy stances" raise "real concerns about the pro-Kremlin interests engaged with the Trump team."
Clinton last joined Biden in Scranton in October 2008. Clinton had lost the Democratic presidential nomination that year to Barack Obama, and Biden was Obama's running mate. Their joint appearance then as now was aimed at demonstrating that the Democratic Party was unified behind its presidential candidate.
Obama held a fundraiser with about 60 Clinton supporters on Martha's Vineyard on Monday with attendees paying $10,000 apiece. Hosts Hank and Carol Goldberg gave $33,400, according to a Clinton aide who spoke on condition of anonymity.
Obama told the attendees about the importance of rallying supporters to vote for Clinton. He spoke about Trump briefly and without naming him.
"I'm tired of talking about her opponent," Obama said. "I don't have to talk about her opponent because every time he talks, he makes the case against his own candidacy."
'Unifying' Party
Biden's support for Clinton is "a key part of unifying the family" given how seriously he considered his own run for the nomination this year, said Steve Schale, a Florida-based Democratic strategist who last year advised the super-PAC that urged Biden to challenge Clinton in the primaries.
"He gives her instant credibility with portions of the electorate -- blue-collar workers and seniors," Schale said. Like Trump, Biden is known for speaking his mind in a way that appeals to working-class people. But instead of boasting about wealth and power as Trump does, Biden emphasizes the values that he and his crowds share. Voters perceive him as "the complete antithesis of Donald Trump," Schale said. "Because of that, he can prosecute Trump in a way I'm not sure any other Democrat can."
Scranton Roots
Scranton plays a similar role in the campaign-trail stories of both Clinton and Biden, as a place where they and their families learned the value of hard work and the virtues of the golden rule. For her, it's the place where her grandfather worked in a lace mill, where she and her brothers were christened, where the family spent summers on nearby Lake Winola where she learned to swim and to shoot a gun. For him, it's a childhood hometown, the place where he played baseball and fought a stutter.
Historically Democratic but with demographics that could give Trump a foothold, Scranton is the kind of place where Biden's advocacy could help Clinton. In 2012, Obama won Lackawanna County by nearly 30 percentage points. Trump won 70 percent of the county's vote in the April Republican primary.
Biden's campaign travels in 2008 and in Obama's 2012 re-election campaign were concentrated in the Rust Belt and other areas with large populations of working-class white voters. He's expected to take on a similar role for Clinton and would be most useful on the trail in Pennsylvania, Ohio and Florida.
Before it's here, it's on the Bloomberg Terminal.
LEARN MORE