Barrack Says Trump Will End 'Negativism' at Advisers' Urging
The longtime friend of Trump's offered his view after another weekend of clashes between the Republican presidential nominee and the news media.
By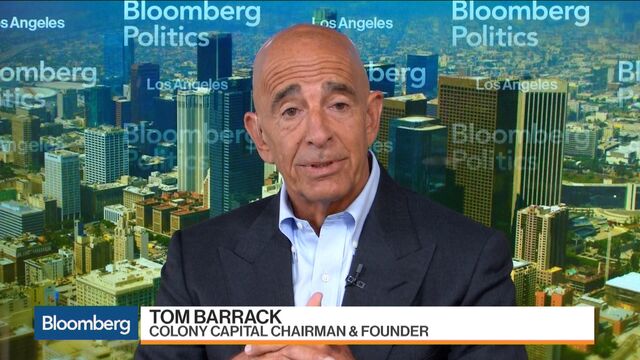 Colony Capital Inc. Chairman Tom Barrack said Monday that those around Donald Trump are urging him to "move on from all the negativism and find the little degrees we can move as a group."
"He'll do it," said Barrack in an interview with Bloomberg Television's Erik Schatzker. "He's got very good people around him now who are saying, 'Look, you're better than that.'"
Barrack, a longtime friend of Trump's, offered his view after another weekend of clashes between the Republican presidential nominee and the news media.
After the New York Times reported Saturday that people close to Trump and his campaign described him as "exhausted, frustrated and still bewildered by fine points of the political process and why his incendiary approach seems to be sputtering," Trump fired back in a series of messages to his nearly 11 million Twitter followers.
"The failing @nytimes, which never spoke to me, keeps saying that I am saying to advisers that I will change. False, I am who I am-never said," Trump said in one message. "I have always been the same person-remain true to self.The media wants me to change but it would be very dishonest to supporters to do so!" he said in another.
Barrack acknowledged the tension between Trump and the press. "So many things are taken out of context and it's become a bit of a war between Donald and the news media," he said. "He's probably right in a lot of aspects."
"He should just mark that up and say, 'That's the way that it is and I'm going to move on,'" Barrack said.
Barrack spoke on Trump's behalf at the Republican National Convention in July, and the campaign recently named him as one of several billionaire members of Trump's economic advisory council.
Barrack said the public will soon see Trump's plan to overhaul entitlement programs, following his move last week to offer more details on his economic and tax agenda. 
"You have to redirect this aircraft carrier and it can only be done in these little steps," Barrack said. "The American public does not want to reduce entitlements. The American public still wants more for less."
He also touted Trump's campaign promise to pursue bilateral trade agreements, which Trump says can be renegotiated more easily to benefit the U.S. than multilateral deals.
Barrack has distinguished himself from Trump with his willingness to praise Democratic nominee Hillary Clinton, and did so again Monday, calling her a "good choice" and "tremendously competent."
President Barack Obama—another frequent target of Trump's, whom the Republican nominee recently accused of founding the Islamic State terrorism group—is "well-meaning" and doesn't have "malice in his heart," Barrack said.
Watch Next: Tom Barrack on Donald Trump's Presidential Campaign (Full Interview)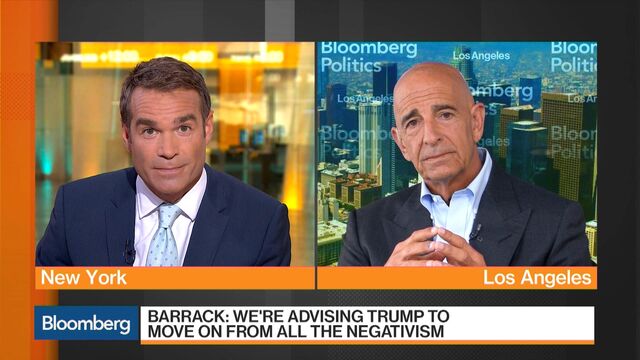 Before it's here, it's on the Bloomberg Terminal.
LEARN MORE