Two Japan Ministers Visit War Shrine as Abe Sends Offering
by
Visits to Yasukuni Shrine likely to irk China, South Korea

Japanese embassy in China issues warning to nationals there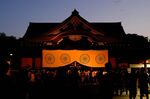 Japanese Prime Minister Shinzo Abe sidestepped a visit to a controversial Tokyo war shrine on the anniversary of the nation's defeat in World War II, opting instead to send a ritual donation -- a move still likely to provoke criticism from its East Asian neighbors.
Internal Affairs Minister Sanae Takaichi and Olympics Minister Tamayo Marukawa, as well as about 70 lawmakers from a cross-party group, paid their respects later Monday at the Yasukuni Shrine. Japan's hawkish new Defense Minister Tomomi Inada was also widely expected to visit the site but opted to travel to Djibouti on her first overseas trip in the post.
The shrine is seen by some in China and South Korea as a symbol of Japan's past militarism because 14 Class-A war criminals are enshrined there along with millions of war dead.
The visits come as China steps up pressure on Japan over disputed islands in the East China Sea, with coast guard vessels and fishing boats spotted in recent weeks in what Japan regards as its territorial waters. Tokyo has repeatedly protested to Beijing over the issue, while officials have complained about what Japan sees as the installation of a military-grade radar on a gas platform near the median line between the two nations, the Nikkei newspaper said.
Such incidents show an escalation of the long-running dispute between Asia's two largest economies -- China is also Japan's largest trading partner -- and raise the risk of an unintended military clash. The friction may hamper the chances of a summit between Abe and Chinese President Xi Jinping at the Group of 20 summit in China next month.
"If the situation continues to escalate, skirmishes around the Diaoyu islands cannot be ruled out," said Su Zhiliang, a history professor at Shanghai Normal University, using the Chinese name for the islands known as the Senkakus in Japan. "Sino-Japanese relations now face the toughest stretch since the nationalization of the islands in 2012."
Tensions High
Tensions are high across East Asia. Japan on Monday protested a visit by lawmakers from South Korea's ruling Saenuri party to a separate group of islands in the East China at the center of a territorial dispute between Japan and South Korea. Japan is also planning to develop surface-to-ship missiles to defend remote islands, the Yomiuri newspaper reported Sunday, while the Japanese consulate in Shanghai on Friday issued a notice to Japanese nationals living in China to watch their behavior on dates around war commemorations.
China sent a message to Japan through diplomatic channels discouraging cabinet ministers from visiting Yasukuni, the Asahi newspaper reported Friday, citing multiple unidentified diplomatic sources. The paper reported that Beijing has postponed a planned visit by assistant foreign minister Kong Xuanyou to Japan this month due to Tokyo's repeated protests over the actions in the East China Sea.
U.S. President Barack Obama will discuss the East China Sea with Xi at the G-20 summit in Hangzhou, the Nikkei newspaper reported Friday, without saying where it got the information.
"Obama will seek a balance between China and Japan, and if Japan leans too far towards the right, he would certainly not further help with that direction," said Su from Shanghai Normal University.
In December 2013, Abe drew a rebuke from China after he became the first sitting Japanese prime minister to visit Yasukuni in seven years. While he has since only made offerings and donations, his wife has visited on at least a couple of occasions. The U.S. embassy in Japan issued a statement at the time rebuking Abe over his visit to the shrine.
Before it's here, it's on the Bloomberg Terminal.
LEARN MORE