U.S. Swimmers Including Ryan Lochte Robbed in Rio de Janeiro
By
Thieves posing as armed police targeted athletes' taxi Sunday

Robbery comes amid Brazil's biggest security operation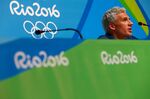 Four members of the U.S. Olympic swimming team, including 12-time medalist Ryan Lochte, were robbed Sunday by men posing as armed police officers, the U.S. Olympic Committee said.
Lochte, Gunnar Bentz, Jack Conger and Jimmy Feigen were traveling by taxi after leaving a party at France's hospitality house in Rio de Janeiro's south zone when they were stopped on the way back to the Olympic village, about 35 kilometers (22 miles) away in the west of the city. They were asked to hand over money and other belongings.
All four men are safe and cooperating with authorities, the USOC said in its statement.
Describing the incident to NBC, Lochte, 32, said the perpetrators "pulled out their guns, they told the other swimmers to get down on the ground -- they got down on the ground. I refused, I was like we didn't do anything wrong, so -- I'm not getting down on the ground."
"And then the guy pulled out his gun, he cocked it, put it to my forehead and he said, 'Get down,' and I put my hands up, I was like 'whatever.' He took our money, he took my wallet -- he left my cell phone, he left my credentials," Lochte said.
Confirmation of the crime follows confusion earlier on Sunday, when local organizers and the International Olympic Committee initially denied an incident had taken place. The robbery involving the swimmers is a setback for Brazilian authorities who are carrying out the biggest security operation in the nation's history. Around 85,000 personnel, including soldiers and state and city police, have been spread throughout the city during the Games.
That hasn't stopped crime entirely. Portugal's education and sports minister and two Australian rowing coaches were robbed at knifepoint while walking near the Olympic rowing venue in the days after the Aug. 5 opening ceremony. Members of Australia's Paralympic team were also robbed in the lead-up to the Olympics.