Santos Flags $1 Billion Gladstone LNG Charge on Gas Supply
by
Ramp up of GLNG equity gas has been slower than anticipated

Asian spot LNG prices have fallen more than 25% past year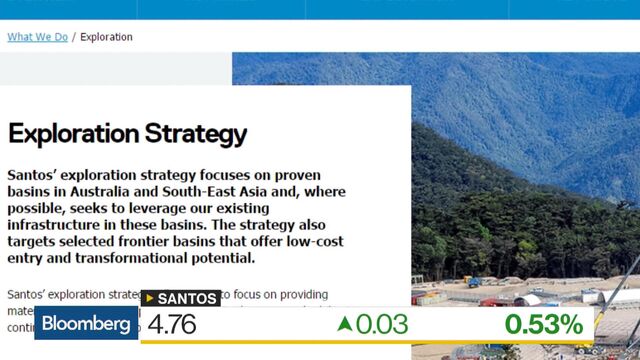 Santos Ltd. will take a $1.05 billion writedown on its Gladstone LNG project due to rising prices for third-party gas supplies and slower-than-expected ramp up of its own equity output to feed the export project.
The non-cash charge on the liquefied natural gas development in Queensland, which is $1.5 billion before taxes, will be recorded in its half-year results on Friday, the Adelaide-based company said in a statement Monday to the Australian stock exchange. The writedown won't impact debt facilities, the country's third-largest gas producer said.
While spot LNG prices in Asia's energy trading hub of Singapore have slid more than 25 percent in the past year, natural gas in Australia has increased amid the start of three export projects on the east coast. The average wholesale gas reference price in the state of Victoria during July averaged above $12 per gigajoule, more than double the same period a year ago, according to the Australian Energy Market Operator.
"We are seeing the effects of ongoing constraints on capital expenditure and a softer LNG market," Kevin Gallagher, chief executive officer and managing director, said in the statement. "We are experiencing a slower ramp up in production of GLNG equity gas and the price of third party gas has increased" in Australia, he said.
Global Glut
Shares fell as much as 2.3 percent to A$4.62 in Sydney before recovering to settle 1.1 percent higher. The benchmark S&P/ASX 200 Index gained 0.2 percent.
The ongoing oil rout and high cost of constructing LNG plants has seen energy producers incur billions of dollars in writedowns and delay project investments. Santos had already taken a A$565 million ($433 million) pretax charge against the plant last year.
Global gas markets will remain oversupplied until 2018 and demand and supply won't align until 2021 as natural gas liquefaction capacity jumps 45 percent through 2021, 90 percent of which is in the U.S. and Australia, the International Energy Agency said in June.
'Tough Medicine'
The impairment is also the latest sign of strife in Australia's energy sector with major gas export projects including GLNG struggling under the weight of the energy crash. Oil tumbled to a 12-year low earlier this year, forcing producers to cut spending on exploration and production to weather the worst downturn in a generation. Brent crude has averaged about $42 a barrel so far this year, compared with more than $53 during 2015 and nearly $100 in 2014.
"Gallagher has had to swallow some tough medicine in adjusting prior operating assumptions that have proven to be unrealistic given the new oil price and LNG market realities," Ben Wilson, an analyst at RBC Capital Markets, wrote in a research note. "Future third-party gas procurement costs (over and above the contracts already committed to) will likely be more expensive given the lack of development of East Coast gas resources currently."
Santos will likely prioritize retaining cash given the prolonged slump in energy prices, S&P Global Ratings, which left its rating for the company unchanged, said in a report Monday.
"Management has displayed a willingness to raise cash proceeds to bolster its credit metrics either from asset sales, sell-down of an interest in its producing assets, or via an equity raising.s," Craig Parker, a credit analyst, wrote in the report.
Before it's here, it's on the Bloomberg Terminal.
LEARN MORE