Kuroda Price Vexation Means Less Misery at Tokyo Ramen Shops
by and
37-year-old salaryman says he's against reflationary policies

Japan in a 'sweet spot' seeing positives of deflation: Mizuho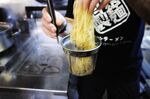 It's 37.7 degrees at noon in Tokyo on the hottest day of the year and still the square outside Shimbashi Station is teeming with office workers scampering to find a cheap lunch.
The neighborhood is littered with restaurants offering sushi, ramen noodles or beef bowls for about $5. That's a godsend in a country where real wages have shrunk every year since Prime Minister Shinzo Abe took office in 2012 on a pledge to revitalize the economy.
The scene highlights a dilemma for Abe and Bank of Japan Governor Haruhiko Kuroda, who has spent three years undertaking unprecedented monetary easing to stoke inflation toward 2 percent. While the policy succeeded in sending bond and stock prices higher, those seeking a meal around Shimbashi station are still more concerned about being frugal with their salaries than making big purchases before prices rise.
"I'm against the reflationary policies of the government and BOJ," said Shoichi Sasaki, a 37-year-old father-of-two breaking for lunch in Shimbashi. He has less money to spend after his wife cut his allowance by almost a third, saying they need to save more for education and daily expenses. "In my situation, it helps if prices go down."

Sentiments like that are reflected in the Misery Index, computed by adding inflation to the unemployment rate. At 2.7 percentage points in June, the gauge hasn't been lower since 1995. Consumer prices have been falling along with joblessness, but tightness in the labor market has yet to flow through to higher salaries. The Misery Index shot to 7.3 percentage points in 2014, the highest since 1981, after Abe oversaw a sales-tax hike to 8 percent from 5 percent that sent the country into recession.
Reflation in the world's third-largest economy has only partially worked. The Bloomberg Japan Sovereign Bond Index has gained 14 percent since the end of 2012, while the benchmark Topix stock index has surged 53 percent. The yen's 23 percent advance against the U.S. dollar in the past year is another factor adding to deflationary pressure, suggesting the BOJ will have to maintain asset-buying stimulus that has supported prices of bonds and commercial property.
'Ultimate Happiness'
"For the average person, low unemployment coupled with low inflation is the ultimate happiness," said Toru Suehiro, the senior market economist at Mizuho Securities Co. in Tokyo. "We're actually in a kind of sweet spot now, where we're seeing the positives of deflation. But it's not going to last forever."
The Misery Index highlights the public-relations challenge faced by the BOJ, whose policies have become increasingly unpopular since the introduction of a negative interest rate in January spurred people to pull savings from banks to stash at home. If inflation rises before wages, consumers will struggle in the interval -- until either pay goes up, or retailers are forced to cut prices again.
For more on Japan's salarymen's pocket money, click here.
Salarymen often have an allowance set by their wives, who traditionally control family budgets in Japan. This year they get an average of about $12 dollars a day, the third lowest level in Shinsei Bank Ltd.'s survey data going back to 1979. 2015 was the second lowest, also just north of $12. The worst year was 1982.
"The fact that prices don't go up does help my own finances somewhat, although it doesn't help my company's earnings," said Naoki Aoyama, a 35-year-old salaryman who was also in Shimbashi that day. "I don't feel like Abenomics has improved our standard of living."
Before it's here, it's on the Bloomberg Terminal.
LEARN MORE