KrisEnergy Exploring Options as Debt Covenants Come Under Stress
By
Singapore-based oil and gas producer has $25.2 million 2Q loss

Company explores equity issuance, asset sales and refinancing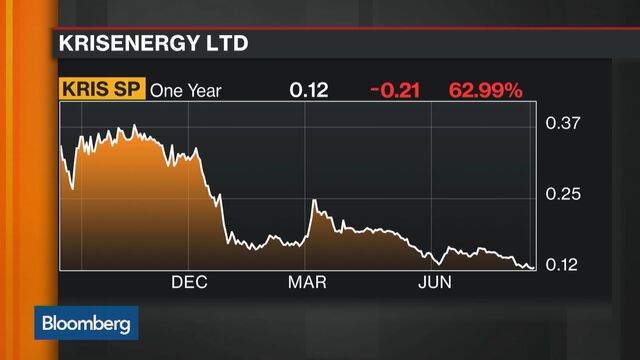 The energy collapse continues to rack up victims in Singapore.
This time it's KrisEnergy Ltd., an oil and gas producer that said Sunday it is exploring equity issuance, refinancing and asset sales to strengthen its capital structure as its debt covenants may come under stress. The announcement came just weeks after oil services firm Swiber Holdings Ltd. roiled Singaporean markets by filing for liquidation and then dropping that plan and pursuing a restructuring.

The announcements underscore the struggles energy companies face as the crash in energy prices enters its third year. Brent crude sells for almost 60 percent less than it did in the summer of 2014. KrisEnergy acting Chief Executive Officer Jeffrey S. MacDonald described it as "one of the most severe downturns I have seen in my 38 years in the exploration and production industry."
"In the near term, there is a risk that certain of our covenants under existing debt instruments may come under stress," MacDonald said in a report to shareholders accompanying the company's second-quarter earnings. "The company continues to review its financial condition and we have engaged external parties to review all available opportunities to strengthen the group's capital structure."
The measures may entail a form of equity issuance or an equity-linked instrument, a refinancing of capital structure, or the divestment of assets, he said.
The company announced a net loss of $25.2 million in the second quarter, compared with an $8.7 million profit a year earlier. It increased its capital expenditure guidance for 2016 to $83 million from $50.8 million to develop the Block A Aceh gas field in Indonesia. KrisEnergy transferred its revolving credit facility to DBS Bank Ltd. in June, MacDonald said in the report.
KrisEnergy produces about 17,000 barrels of oil equivalent a day, a little more than one-tenth of the daily oil demand in remote New Zealand. Shares traded at S$0.124 at settlement Friday, down 64 percent from the year before, giving the company a market capitalization of S$186 million ($138 million). KrisEnergy has S$130 million in principal maturing next year and another S$200 million in 2018.