Japan's Economic Growth Slows as Business Spending Slumps
by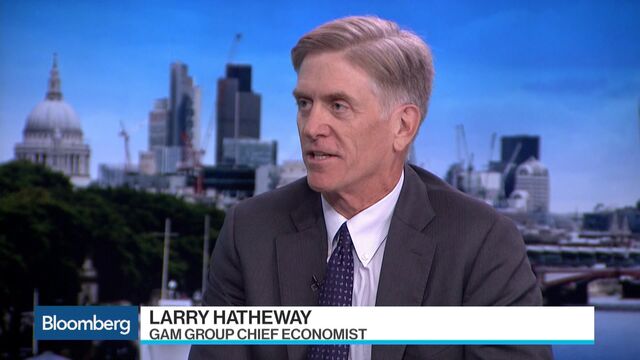 Japan's economy grew less than forecast in the three months through June 30 as business spending contracted for a second-straight quarter and exporters struggled with the resurgent yen.
Key Points

Gross domestic product expanded by an annualized 0.2 percent in the second quarter, less than the median estimate of economists for a 0.7 percent increase.
Business spending declined 0.4 percent from the previous three months (estimate +0.2 percent), according to the data released by the Cabinet Office on Monday.
Private consumption increased 0.2 percent over the same period (estimate +0.2 percent).
Net exports subtracted 0.3 percentage point from GDP.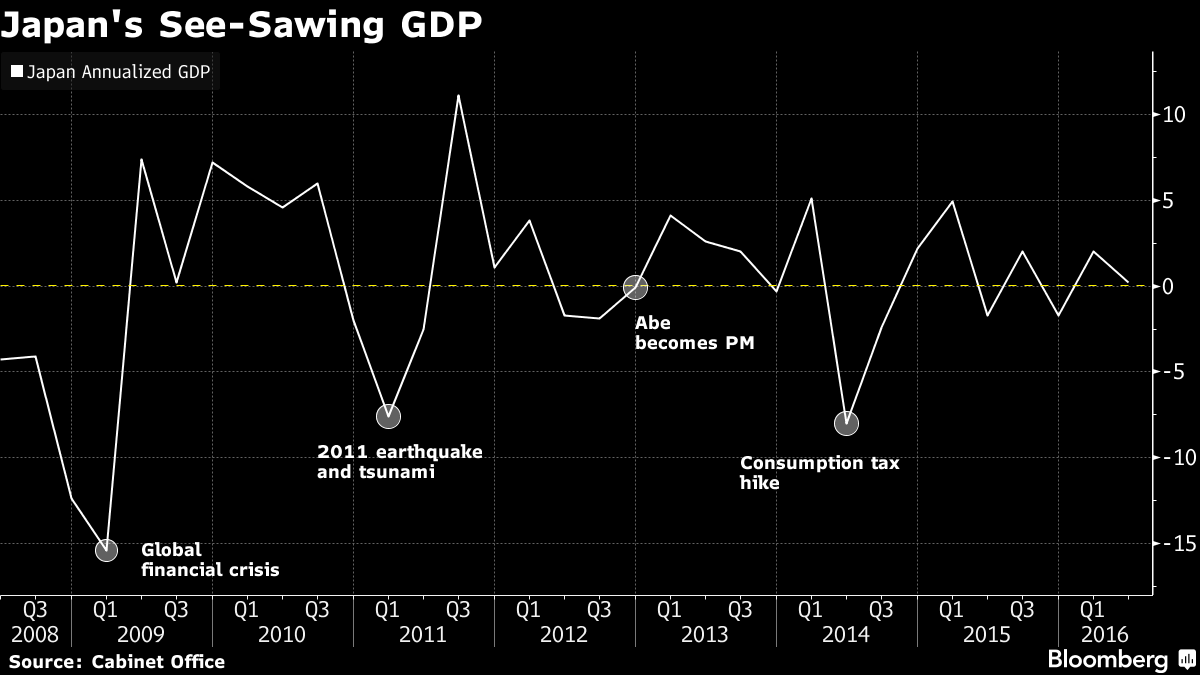 Big Picture
Policy makers are struggling to find a strategy to produce consistent growth, with the economy oscillating between slight expansion and contraction. Businesses and consumers have been reluctant to spend, resulting in negative GDP numbers in five quarters over the past three years. The data keeps pressure on the Bank of Japan to consider more monetary stimulus at its September meeting while increasing the need for the government to tackle structural obstacles to growth.
Economist Takeaways
"With gains in the yen and declines in stocks, companies are holding off their spending," said Atsushi Takeda, an economist at Itochu Corp. in Tokyo. "The yen's gains are hurting exports when overseas demand remains weak."
"Looking ahead, public works spending will be the only support for the economy as the fiscal stimulus package will be carried out later this year," said Takeda. "But there's no change to the picture that the economy lacks a strong driver to boost growth, so we can't really expect a solid recovery."
"The Bank of Japan will probably have no choice but to take some easing action at its September meeting," he said.
Watch Next: Little Chance of Japan Helicopter Money, Says Smith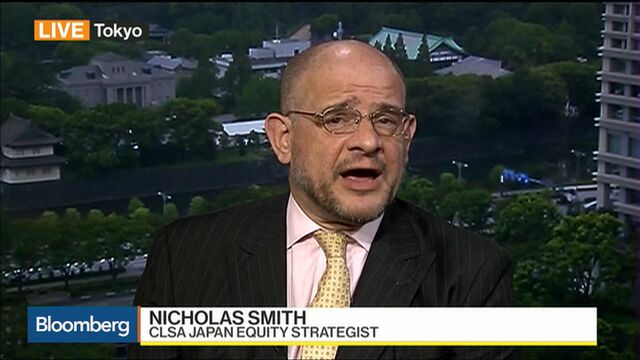 The Details

Measured quarter on quarter, GDP didn't budge (estimate +0.2 percent)
Private inventories contribution to GDP was zero.
The GDP deflator rose 0.8 percent from a year ago.
Purchases of regular cars was firm while that of mini cars was weak
Spending on televisions contributed to growth
There was a decline in eating out
Purchases by non-residents, an indicator for consumption by foreign visitors, fell for first time since the final quarter of 2012
Watch Next: What's Behind Japan's Slowing Economy?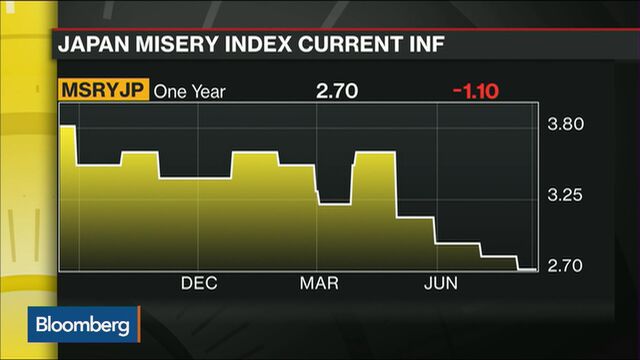 Before it's here, it's on the Bloomberg Terminal.
LEARN MORE