markets
IMF Plans to Help Egypt Secure Remaining Money for Loan Deal
By
Egypt needs $21 billion for growth-oriented three-year program

IMF has agreed in principle to lend Egypt $12 billion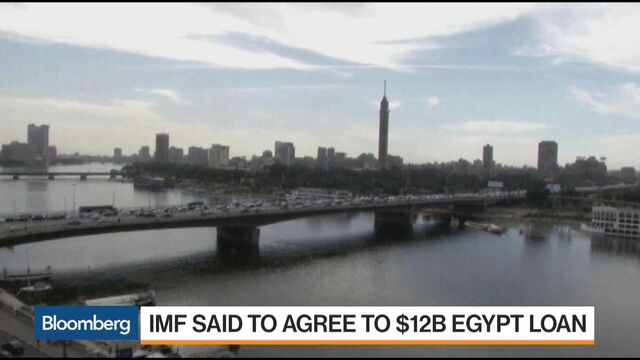 The International Monetary Fund said it will help Egypt plug the remaining financing gap for its economic program before the fund's executive board approves a $12 billion loan deal with the Arab country.
The government is targeting $21 billion over three years to revive growth and ease a crippling foreign-exchange shortage. In addition to the IMF loan, funds will come from the World Bank, the bond market, and bilateral accords.
"All IMF-supported programs have to be fully financed," Chris Jarvis, the IMF's mission chief for Egypt, said in an e-mailed response to questions. "In Egypt's case, we would be looking for commitments of around $5 billion to $6 billion from bilateral creditors before the program is brought to the Board so that we can be sure that the program is fully financed."
The IMF will be "working together with the Egyptian authorities in the coming weeks to secure this financing," he said.
Before it's here, it's on the Bloomberg Terminal.
LEARN MORE