Xenophobia Not Behind China Power Bid Rejection, Australia Says
By
Australia has barred State Grid, CKI from buying Ausgrid

Decision driven by 'witches brew' of nationalism: ex-minister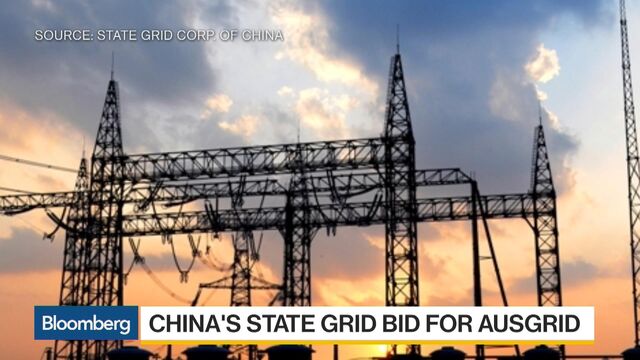 Australian Treasurer Scott Morrison rejected claims that xenophobia drove his decision to block the more than A$10 billion ($7.7 billion) sale of state-owned power network Ausgrid to Chinese bidders, insisting he acted on grounds of national security.
Morrison on Thursday barred State Grid Corp. of China and Hong Kong's Cheung Kong Infrastructure Holdings Ltd. from buying 50.4 percent of the electricity distributor, saying it provided "critical power and communication services" to businesses and government.
China's infrastructure investors have had a tough two weeks as Morrison's decision comes after U.K. Prime Minister Theresa May's government said it was reconsidering a plan to build Britain's first nuclear-power facility in more than 20 years with Chinese backing.
Bob Carr, who was foreign minister in Australia's previous Labor government, was among critics of Morrison's decision, which he said was a response to a "witches brew of economic nationalism, xenophobia unleashed by the federal election." The July 2 ballot saw a swag of protectionist independent lawmakers elected to the Senate and strengthened the voice of the National Party, the junior coalition government partner, which has a been a vocal critic of investment by Chinese state-owned companies.
To read more on relations between Australia and China, click here.
"This was not a country specific decision," Morrison told Australian Broadcasting Corp. radio Friday. Carr's comments were "complete nonsense" and he should know better, the Treasurer added.
CKI, controlled by Hong Kong billionaire Li Ka-shing, said Australia "must have reasons beyond the obvious" for blocking the deal. In a statement, the company said Thursday it "has a strong successful track record of managing infrastructure assets" including electricity and gas networks in the U.K., Australia and New Zealand for 25 years.
Government-owned State Grid already owns parts of electricity networks in South Australia and Victoria states. It was cleared by Australia's Foreign Investment Review Board last year to buy electricity transmission network TransGrid, but lost out to a group of investors from Canada, the Middle East and Australia's Hastings Funds Management Ltd.
"Every transaction is different, every asset is different and you just can't draw linear lines between different decisions and draw the assumptions that I think many are making and are making falsely," Morrison said Friday.
Spy Chief
If State Grid's bid is ultimately blocked, Australia risks straining ties with its most important trading partner. Morrison earlier this year blocked the sale of the nation's largest cattle rancher to a Chinese-led group, and has tightened scrutiny of overseas investment in Australian assets. The government board that vets investments now includes a former spy chief.
Australia's decision to reject the bids is "yet another demonstration of its obscure and inconstant strategy toward Chinese investors," China's official Xinhua News Agency said in a commentary Friday. "Given the critical importance of Australia's economic relationship with China, throwing back Chinese bidders constantly" is unlikely to "serve Australia's long-term national interests."
New South Wales state Premier Mike Baird, who is seeking to sell Ausgrid to fund investment in infrastructure including schools, hospitals and roads, said Friday the bidders' eligibility "should have been resolved much earlier."
The Business Council of Australia, a prominent corporate lobby group, said many state-run companies already operate in the country and urged the government to release more information on its security concerns over the deal.
State Grid and CKI have been given a week to submit revised bids.
Before it's here, it's on the Bloomberg Terminal.
LEARN MORE