Viacom Directors Said to Press for Dauman Deal as Trial Looms
By and
Accord could see exit for CEO, restrictions on Redstone family

Sept. 19 trial is set in Massachusetts in first of three suits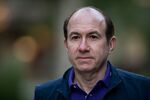 Some Viacom Inc. directors are pressing for a settlement of litigation engulfing the media company, a deal that could lead to the exit of embattled Chief Executive Officer Philippe Dauman, people with knowledge of the matter said.
Terms could also include restrictions on the veto power of the Redstone family, which holds a controlling interest in Viacom's voting stock, said the people, who asked not to be named because the discussions are private. Chief Operating Officer Tom Dooley would step in as interim CEO, they said.
An accord would end lawsuits in three states that have triggered a fight for control of the company and hobbled Viacom's ability to do business. Sumner Redstone, 93, has criticized the company's faltering performance and Dauman's bid to shore up the financials by selling part of Paramount Pictures, while Dauman says Redstone is no longer mentally competent to make major decisions and is being manipulated by his daughter Shari.
There's no indication settlement talks are close to resolution, and it's possible a trial may start as early as next month in Massachusetts. The New York Post reported late Thursday that some board members believe the dispute has gone on too long.
Some directors want to restrict the Redstones' ability to overrule board decisions at Viacom, the owner of MTV and Nickelodeon, the people said. In June, the Redstone holding company, National Amusements Inc., sought to change Viacom's bylaws so that any sale of a stake in Paramount would require the approval of all board members, not just a majority.
Board Overthrow
Viacom said the changes, which are now the subject of litigation, were "completely at odds with good corporate governance."
Redstone and his daughter Shari, president of National Amusements and vice chairman of Viacom, have sought to remove five of Viacom's 11 board members. They include Dauman, attorney George Abrams and lead director Frederic Salerno, who are all plaintiffs in litigation against the Redstones.
Board members pushing for a resolution are said to include former Oracle Corp. President Charles Phillips, one of the people said. He was to have visited the elder Redstone earlier this year on behalf of the board before the meeting fell through. Phillips didn't return a call seeking comment.
Viacom said last week that a majority of its independent board members continue to support the company's strategic plan. A spokesman Friday declined to comment on possible settlement talks, as did a lawyer for Shari Redstone.
"We got the trial dates we wanted," attorney Elizabeth Burnett said Friday when asked about a possible deal.
Massachusetts Court
On Friday, lawyers for the Redstones and Dauman argued in a Massachusetts court over which Jewish holidays should be observed as they approach a trial over the removal of Dauman and Abrams from a Redstone family trust and the board of National Amusements. Dauman and Abrams allege Shari Redstone is exerting undue influence over her father, and have raised questions about his mental capacity.
A trial date was set for Sept. 19. Probate Judge George Phelan will hear arguments Aug. 26 on whether Sumner Redstone will have to submit to a mental examination. He said Friday Redstone can be deposed.
"Is it going to be easy for Sumner to sit through a deposition?" Redstone attorney Robert Klieger said after the hearing. "No. But he will."
Board-level discord blew into the open in February, when Shari Redstone openly opposed the promotion of Dauman to chairman of the New York-based company. She and her father Sumner Redstone own National Amusements, which holds 80 percent of the voting stock in Viacom and CBS Corp.
Before it's here, it's on the Bloomberg Terminal.
LEARN MORE