U.S. Stocks Slip From All-Time Highs Following Lackluster Data
By
Retail sales stalled in July while wholesale prices fell

Banks retreat amid diminished expectations for higher rates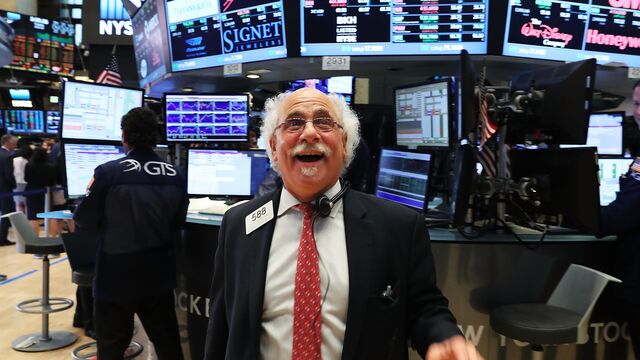 U.S. stocks edged lower as lackluster data offered little incentive for investors to push equities higher after the three main benchmarks reached records on Thursday.
Banks were among the bigger drags Friday as Treasury yields fell, damping optimism for better earnings on speculation the Federal Reserve will be in no rush to raise interest rates. Drugmakers weighed on the health-care group, while raw-materials fell the most in five weeks. Energy producers rose with crude oil for a second day, and Nordstrom Inc. jumped 8 percent to buoy retailers after its quarterly profit beat projections.
The S&P 500 Index fell 0.1 percent to 2,184.05 at 4 p.m. in New York, after yesterday closing at an all-time high for the ninth time in a month. The Nasdaq Composite Index eked out a 0.1 percent climb to its fourth record in six days, while the Dow Jones Industrial Average lost 37.05 points, or 0.2 percent, to 18,576.47. About 5.5 billion shares traded hands on U.S. exchanges Friday, the lowest in four months and 21 percent below the three-month average.
"The market has really been complacent all summer,"said Tom Siomades, head of Hartford Funds Investment Consulting Group in Radnor, Pennsylvania, whose firm oversees $76 billion. "What we've seen is not a preponderance of good news, it's just been a lack of any real bad news. Today's numbers missed across the board but where's the reaction? People have been lulled to sleep here."
A report today showed sales at U.S. retailers were little changed in July as Americans flocked to auto dealers at the expense of other merchants. The stalling of purchases followed a gain in June that was stronger than initially estimated. Excluding cars, sales retreated the most since the start of the year. Separate data showed wholesale prices unexpectedly fell in July by the most in almost a year, a sign inflation is likely to stay muted.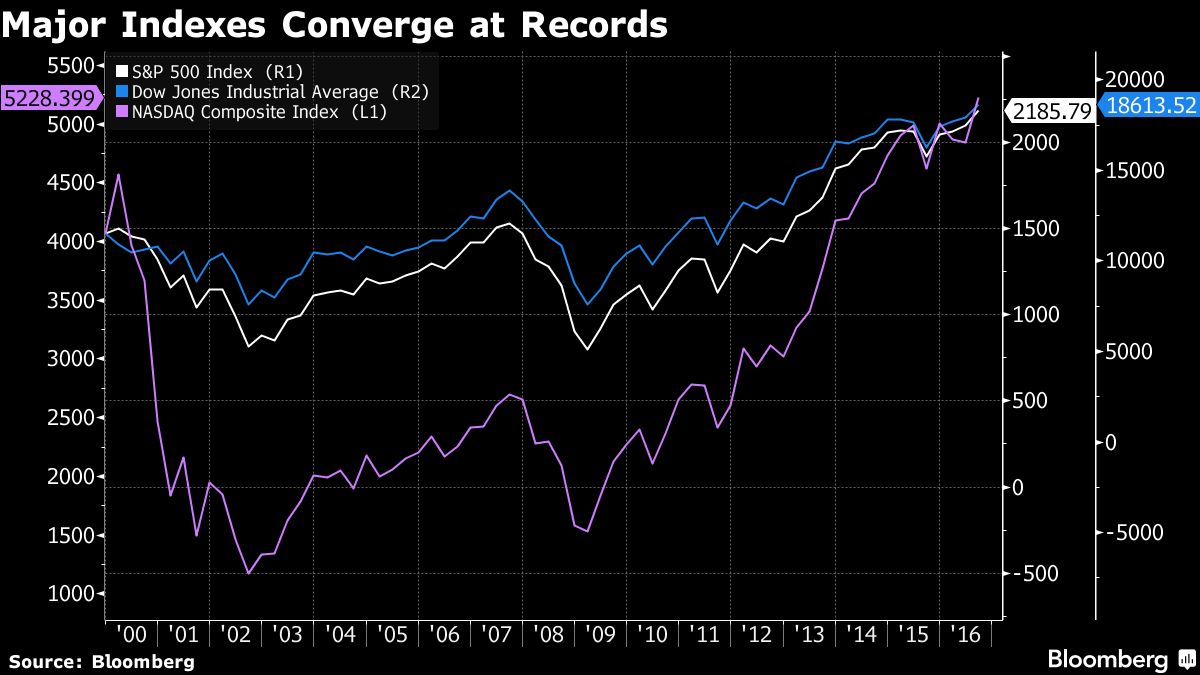 Better-than-projected corporate results, improving economic data and optimism central banks will stay supportive of growth have sent equities to a succession of fresh peaks in the past month while also extending valuations. The S&P 500's price relative to future earnings has climbed to 18.6, the highest since 2002.
The gains are also getting harder for strategists to ignore. Wells Fargo & Co. became the second of 21 firms tracked by Bloomberg to raise its target for the S&P 500 since the measure surged past the group's average year-end prediction a month ago. The benchmark rose less than 0.1 percent for the week.
The advance to records has ushered in a deepening level of calm. The CBOE Volatility Index slipped 1.1 percent Friday to 11.55, after briefly touching a two-year low. The measure of market turbulence known as the VIX snapped the longest stretch of weekly declines in eight years. Meanwhile, bets against the rally have been punished as a Goldman Sachs Group Inc. basket of most-shorted shares capped a seventh consecutive weekly climb, its longest since 2009.
Consumer Confidence
With the earnings season approaching its end, investors are turning their focus to economic data to gauge the vitality of U.S. growth and the Federal Reserve's next policy steps. In addition to July retail sales and producer prices, a report showed consumer confidence rose less than forecast in August, reflecting a pullback in views on personal finances among younger Americans.
After Friday's data, traders' bets on the timing of an interest-rate increase have fluctuated, with the first month showing at least even odds of higher borrowing costs volleying between March and May 2017.
With most S&P 500 members through with reporting quarterly results, 78 percent exceeded profit forecasts while 56 percent beat on sales. Analysts predict earnings for the group fell 2.5 percent, and estimates for the current quarter recently went negative, expected to now fall 0.8 percent in the period ending in September, compared with a 1.8 percent gain forecast before the earnings season began four weeks ago, according data compiled by Bloomberg.
"We have reasonably good news from the earnings season and the economy recently," said Otto Waser, head of investment research at R&A Group Research and Asset Management AG in Zurich. "There are no large investor worries, and this has kept markets relatively stable. When the S&P managed to reach a fresh all-time high in July, we thought that was important, and now we're getting some confirmation."
Materials Sink
Among the S&P 500's main industries today, energy producers climbed 0.7 percent as crude rallied to its best week since April on optimism OPEC members will act to stabilize the oil market. Consumer staples added 0.3 percent. Raw-materials dropped 1.2 percent while industrial and financial stocks lost at least 0.2 percent.
Dow Chemical Inc. fell 2.4 percent merger partner DuPont Co. lost 1.9 percent to lead raw-materials lower, as their deal comes under greater scrutiny, facing months of haggling with European Union antitrust regulators. Steelmaker Nucor Corp. and Alcoa Inc. sank more than 2.4 percent.
Banks weighed most on the financial group, with regional lenders the weakest performers. Huntington Bancshares Inc. and KeyCorp losing more than 0.9 percent, trimming declines in the final hour of trading. Weyerhaeuser Co. fell 1.9 percent to the lowest in a month after Dundee Securities Corp. downgraded the shares to sell from neutral.
Exxon Mobil Corp. rose 1.3 percent, climbing for the fifth time in six days as West Texas Intermediate crude futures rallied more than 2 percent. Marathon Oil Corp. and Southwestern Energy Co. added more than 1.8 percent.
Yahoo! Inc. helped lift the Nasdaq Composite, climbing 4.1 percent to a 14-month high. The shares posted their best back-to-back increase in almost six months, following Alibaba Group Holding Ltd. higher for a second day as China's biggest e-commerce company gained 7.1 percent.
Among shares moving on corporate news, Nvidia Corp. rose 5.6 percent to a record after the biggest maker of graphics chips forecast sales that topped analyst estimates. Cigna Corp. surged 5.3 percent and Anthem Inc. advanced 1.6 percent after the U.S. government said it's open to settlement offers in its antitrust case against the companies' merger. J.C. Penney Co. gained 6.1 percent after posting a smaller quarterly loss as it shows progress in efforts to rebuild its business.