U.S. ELECTION WRAP: Toomey Walks Trump 'Tightrope' in Pennsylvania
Trump poses a quandary for Republican Pat Toomey as he fights to keep his U.S. Senate seat.
By , , and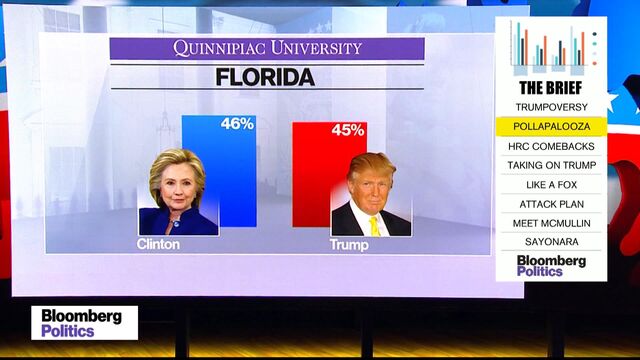 Republican Senator Pat Toomey isn't joining Donald Trump on the stump today in Pennsylvania—and while he's putting off a campaign appearance with the GOP presidential nominee for now, over the next 87 days he'll need to decide whether to maintain that distance.
Toomey began slipping behind Democratic challenger Katie McGinty just as Hillary Clinton took a clear lead in the Keystone State. Trump is now behind by 9.2 points, according to poll average by Real Clear Politics. Toomey, seeking his second term, trails McGinty by 2.6 points

That's largely because Clinton extended her lead, not because of any notable developments in the Senate race, according to pollster and political scientist Terry Madonna. McGinty hasn't even had a particularly good last few weeks on the trail, Madonna said, pointing to a recent gaffe and her speech to the Democratic National Convention that was widely panned as boring
"The down-ballot effect took hold of the Senate race," said Madonna, director of the Franklin & Marshall College poll

Toomey hasn't endorsed Trump, saying he hopes to do so but is still deciding; meanwhile, McGinty, who served as an environmental adviser in the Clinton administration, is trying to tie him to the controversial GOP nominee

That could help Toomey with blue-collar voters in southwestern Pennsylvania, where the Trump leads, but to win in November, Toomey also must gain enough support among the large pool of swing voters in the Philadelphia suburbs, which over the past few decades has shifted from GOP to Democratic

"He has to walk a tightrope" of appealing to both groups if he wants to win, Madonna said, noting that in 2012 GOP nominee Mitt Romney won every county in southwestern Pennsylvania, outside of Allegheny County in and around Pittsburgh, but still lost the state to President Obama by 5.4 percentage points

Delaware County, near Philadelphia, gave Obama 60% in 2012 vs 39% for Democratic nominee Michael Dukakis in 1988
George H.W. Bush in 1988 was the last Republican presidential candidate to win Pennsylvania
Click here to get the U.S. Election Wrap by e-mail every afternoon

PENNSYLVANIA & TICKET-SPLITTING
Toomey's best shot at winning over Clinton voters may be to emphasize his fiscal conservative record, Madonna said
The American Conservative Union gives Toomey a lifetime score of 93%; Toomey is former president of Club for Growth, a free-market and anti-tax group that spent millions of dollars during the Republican presidential primary on ads opposing Trump
If Trump ends up losing to Clinton in November, Toomey's fate may depend on so-called ticket-splitting, when a voter choose candidates from two different parties on one ballot
That could work if Clinton won by just a handful of points, but if she—or, conversely, Trump—takes the state by as much as 9 to 11 points, "it's going to be very difficult for the Senate candidate in the other party to prevail," Madonna said
The widening divide between Democrats and Republicans over the last few decades has affected how voters cast their ballots across the board

In 1984, 1 out of every 2 voters nationwide split tickets; in 2012, just 1 in 5, according to Madonna

In Pennsylvania, it may not just be the political fortunes of Toomey and McGinty on the line. Democrats are looking to retake control of the Senate by picking up Republican-held seats in Pennsylvania and other states Obama won in 2012
Toomey's dilemma over whether to endorse Trump was evident yesterday when the GOP senator told Chris Stigall's radio show in Philadelphia that Clinton poses a greater threat to the United States than Trump; McGinty's campaign was quick to react, pointing out that former GOP Pennsylvania Governor Tom Ridge was among 50 national security officials to warn that Trump would put the country's security at risk if elected

"Pat Toomey is so committed to the Trump-Toomey ticket that he's even willing to argue against Tom Ridge about national security. Let's be clear: Pat Toomey is wrong," McGinty said

Madonna said he would advise that Toomey go ahead and formally support Trump, but that could be a problem if Trump continues to lag Clinton in the 9-point range

"Toomey is on a tightrope and he probably has to stay there and hope for the best," he said

Trump campaigned in Erie, Pennsylvania, this afternoon and speaks tonight in Altoona
Hillary Clinton and Vice President Joe Biden are set to speak Monday in Scranton, Pennsylvania, the sixth-largest city in the state; Clinton's father was born there and Biden was born and spent his first 10 years in Scranton before moving to Delaware

CLINTON TAX RETURNS
Clinton released her 2015 tax returns as well as 10 years' worth of Tim Kaine's returns as the Democratic nominee's campaign sought to draw a contrast with rival Trump, who has yet to release his tax information

Clinton and her husband, former President Bill Clinton, earned adjusted gross income of $10.6 million in 2015 and paid $3.6 million in federal income taxes
See full story by Bloomberg's Lynnley Browning here

POLLS/PREDICTIONS
Clinton could win without capturing Florida and Ohio, according to FiveThirtyEight

Because Clinton is outperforming national polls in Colorado and Virginia, if she wins those states and New Hampshire, she can make it above 270 electoral votes without Florida, Ohio, Nevada and Iowa

Clinton has a big lead over Trump in Colorado, Florida, Virginia and North Carolina, according to an NBC/WSJ/Marist poll

Clinton is ahead of Trump by 5 points in Florida; 14 points in Colorado; 13 points in Virginia; and 9 points in North Carolina

ENDORSEMENTS/DEFECTIONS
Robert H. Tuttle, who served as an assistant to the president and director of presidential personnel in the Reagan administration, is backing Clinton

"I have never voted for a Democrat but I will vote for Secretary Clinton," he said in a statement released by the campaign

ADVERTISING
Democrats are outspending Republicans 4-to-1 on TV ads, The Hill reported

The Clinton campaign and Democratic groups are spending almost $9.3 million on TV ads in seven swing states this week; two Republican groups backing Trump are spending almost $1.9 million in five swing states

ETC

CONGRESSIONAL RACES
SENATE
MCCONNELL MATH: Majority Leader Mitch McConnell said yesterday that Republican prospects to retain their majority are "very dicey," Associated Press reported

"I may or may not be calling the shots next year," said McConnell, who identified seven "very competitive" races for Republican-held seats in Fla., Ill., Ind., N.H., Ohio, Penn., Wis.
Republicans control 54 of 100 Senate seats and are the defending party in 24 of the 34 Senate elections on Nov. 8 ballot; Democrats need net gain of five seats to clinch majority, or four if Clinton defeats Trump
FL-SEN: Republican Sen. Marco Rubio's campaign and the National Republican Senatorial Committee released TV ad that features military veterans and touts Rubio's work on legislation to allow for removal or demotion of Department of Veterans Affairs employees based on performance or misconduct

"Because of Marco's bill, there may actually be some accountability at the VA," Army veteran Myke Landers says to camera
The Senate Veterans' Affairs Committee approved Rubio's bill last November; the House passed a related bill in July 2015.
Rubio favored in Aug. 30 primary against homebuilder Carlos Beruff; Rep. Patrick Murphy favored in Democratic primary over Rep. Alan Grayson
IN-SEN: Republican Rep. Todd Young in TV ad highlights his service in Marine Corps, criticizes "career politicians" who have been "ignoring the threats we face," and says he's "ready to go to the Senate, and I'm ready to fight"

The ad is identical to one that Young's campaign ran in March, except that the new spot excises Young saying "I'm conservative, I'm pro-life," according to Kantar Media's CMAG; Young won May primary over Rep. Marlin Stutzman
Ad run in coordination with NRSC, which supports Young against Democratic ex-Sen./Gov. Evan Bayh for seat of retiring Republican Dan Coats
LA-SEN: Republican Rep. John Fleming released two radio ads, one that touts his conservative views on abortion, guns and immigration, and another that says he was "leading the charge to force John Boehner to resign" as House Speaker in 2015

Fleming among 24 candidates from all parties running on single ballot Nov. 8; runoff expected Dec. 10 between top two vote-getters regardless of party affiliation
NV-SEN: NRSC released TV ad saying Nevada "should be concerned, very concerned" about Democrat Catherine Cortez Masto because she supports the Obama administration's Iran nuclear deal

Cortez Masto and Republican Rep. Joe Heck seeking seat of retiring Minority Leader Harry Reid; nonpartisan political analysts see a tossup race in only competitive contest for Senate seat held by a Democrat
OH-SEN: American Federation of State, County and Municipal Employees released TV ad accusing Republican Sen. Rob Portman of misrepresenting his accomplishments on efforts to curb opioid and heroin abuse

Portman "actually voted against the funding needed for the program," according to AFSCME ad, which cites Jan. 2016 Cleveland.com story
Portman was a co-author of measure, signed into law by President Obama last month, that authorizes but does not appropriate money for federal programs to help state and local communities address the crisis
HOUSE
FL-02: Florida Right to Life PAC, an anti-abortion organization, endorsed former federal prosecutor Ken Sukhia in Republican primary, Florida Politics reported

Sukhia opposed by Mary Thomas, who's backed by Club for Growth PAC, and urologist Neal Dunn in Republican primary that is key election in strongly Republican district in northern Fla.; Democratic Rep. Gwen Graham not seeking second term after court-ordered redistricting added more Republicans to district
FL-18: Democratic businessman Randy Perkins's campaign aired TV ad accusing Democratic lawyer Jonathan Chane of "hiding his record behind lies and attacks" and referring to him as a "corporate lawyer" for tobacco and banks who's been "practicing law and politics in the worst way"

There are contested primaries in both parties for competitive southeastern district of Democratic Rep. Patrick Murphy, who's running for Senate
LA-02: American Chemistry Council released TV ad saying Democratic Rep. Cedric Richmond "fights for all of us" on education for children, facilitating access to capital for small businesses, and public safety

Overwhelmingly Democratic district takes in most of New Orleans, part of Baton Rouge; Richmond's major opponent in all-candidate Nov. 8 primary is Democrat Kip Holden, the mayor-president of East Baton Rouge Parish
NY-22: Retiring Republican Rep. Richard Hanna reiterated he "certainly can't support" Republican nominee Claudia Tenney and said voters have "got choices" like Democrat Kim Myers and third-party option Martin Babinec, Utica Observer-Dispatch reported

Hanna, who beat Tenney in 2014 primary and is endorsing Clinton, said "if they don't like Trump, they shouldn't like Claudia," referring to voters in competitive upstate district that includes Utica and Binghamton
Tenney is a N.Y. assemblywoman; Myers is a businesswoman whose father founded Dick's Sporting Goods chain; Babinec is an investor/entrepreneur
Before it's here, it's on the Bloomberg Terminal.
LEARN MORE