markets
The Yuan Anniversary that Really Matters Is 2005, Not 2015
By
China's dollar de-peg paved path for China's transformation

"Country and its markets have made tremendous progress:" Bocom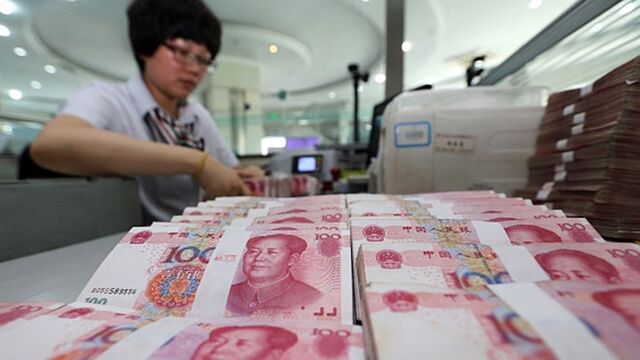 China's sudden devaluation of its currency a year ago this week, dubbed the "yuanniversary" by traders, was an epic market shock.
The People's Bank of China weakened the yuan by almost 2 percent on Aug. 11 of 2015, a move that baffled many investors and has generated speculation ever since about whether financial authorities intend to devalue the yuan dramatically to boost growth.
Yet step back and pull out the long-angle lens, and a far bigger milestone in China's economic evolution comes into view. Back in July of 2005, China's central bank broke a decade-long peg to the dollar. It's an anniversary that attracted far less attention, but the move 11 years ago helped set the stage for China's emergence as an economic superpower.
Authorities pegged the currency back in the mid 1990s to stoke exports and economic growth, shortly after abandoning a dual exchange-rate system for imports and exports. Governments in the U.S. and Europe criticized China for running up a huge trade balance by keeping its currency artificially undervalued in their view. 

The peg was scrapped on July 21, 2005, and the PBOC allowed a one-time, 2.1 percent appreciation, a decision welcomed by then-U.S. Treasury Secretary John Snow. "It was a day I will never forget," said David Mann, chief Asia economist at Standard Chartered Plc.
While that move shocked markets at the time, it's now viewed as a crucial and positive step that helped accelerate China's economic transformation. Doing so allowed the yuan to appreciate, fending off criticisms that it was being kept low just to aid exporters. Its gains also helped to address growing imbalances in the economy in the decade after.
Mighty Yuan
And while trade hawks in the West have criticized China for using the yuan to keep its economy humming, the currency has strengthened more than 21 percent against the U.S. dollar since the end of 2005. That's the most in Asia after Singapore's dollar.
The results speak for themselves. Over the same period, China's gross domestic product has more than quadrupled to $10-trillion plus, the benchmark Shanghai Composite Index stock gauge has almost tripled in value and the nation's foreign exchange reserves, even after record losses in 2015, remain the world's largest at $3.2 trillion.
"In 2005, we were in a global supercycle, helped by an unsustainable credit boom in the west and China's industrialisation and urbanization," Mann said. "In the last few years we have been seeing policy makers coming to terms with sluggish growth in the post credit boom west and east. China is easily the most dominant driver of global growth, accounting for a third of world growth even as it slows and transitions towards services and consumption."
China last year saw service industries for the first time make up more than half of the economy as the nation's swelling middle class demanded more in everything from entertainment to health care and financial products.
"The country and its markets have made tremendous progress since 2005," said Hao Hong, chief China strategist at Bocom International Holdings Co. in Hong Kong.
Now, China wants its currency to be used around the world by everyone from commodities traders in Sao Paulo to importers in London. Further out, authorities have said they want the currency to be fully convertible by 2020.
For a Quick Take on China's currency reforms, click here
The yuan is set to join the International Monetary Fund's elite basket of reserve currencies on Oct. 1. That entry could attract as much as $1 trillion of buying by global reserves managers. China also has opened a network of yuan clearing-banks around the world.
Policy makers want to grow cross-border use of the yuan by encouraging domestic institutions to lend the currency to foreign borrowers among other measures, according to a PBOC report obtained Thursday by Bloomberg News.
Long Road
But for all the hype, the yuan remains some distance from being viewed as a global reserve asset in the way that the dollar or euro is. While authorities preach liberalization, at the same time they have enforced strict rules on moving money out of the country after a record exodus in 2015. And some analysts still fear a steep devaluation.
For now, the lesson from 2005 is that shock currency events are ultimately just growing pains for a rapidly changing economy. With the passing of time, 2015 can be viewed in the same way, Bloomberg Intelligence economists Fielding Chen and Tom Orlik wrote in a note.
"A year on, the PBOC's surprise move is looking less like a disastrous misstep, and more like a necessary evil on the path to a more flexible exchange rate regime," they wrote.
"Significant progress has been made."
Before it's here, it's on the Bloomberg Terminal.
LEARN MORE