QuickTake
Rope-a-Dope: The Olympic Scandal in Two Minutes
Russia's massive state-run doping program. The finger-wagging. Alex Rodriguez. It's all here.
by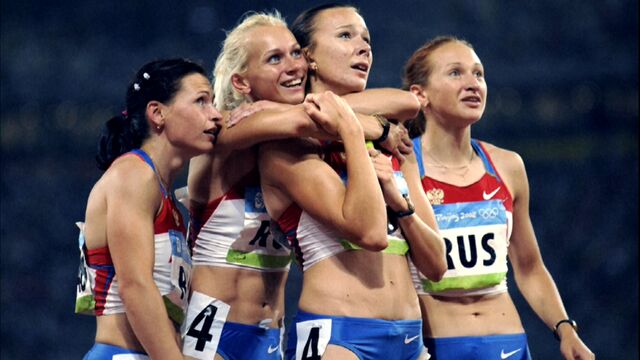 Russia's participation in this year's Olympics was already hard to understand, after a report exposed an elaborate, state-run doping program. Then Lilly King, one of America's best swimmers, put her finger on it.
King's main rival in the the 100-meter breaststroke, Yulia Efimova, had tested positive for performance-enhancing drugs but was still allowed to compete. Triumphant in the semifinals Sunday, Efimova raised the "I'm No. 1" finger, which ticked off King, who wagged her finger derisively before her own victory in the heats. "You're shaking your finger 'No. 1' and you've been caught for drug cheating," King said in an interview with NBC. "I'm not a fan." 
The 19-year-old Indiana University student went on to beat Efimova to the gold medal Monday, leading to an emotional press conference. 
Their conflict was the latest reminder of the toll that performance-enhancing drugs has taken on the Games in the 21st century. After Russia's staggering cheating machine was exposed this year in a damning report, the World Anti-Doping Agency called for the nation's whole team to be banned. The International Olympic Committee instead opted to let individual athletes in sports other than track and field compete if they convinced a special panel that they were clean.
QuickTake Sports, Drugs, and Cheating
The regulators are playing, and losing, an insidious game. Baseball, track and field, and cycling are among the sports that have seen decades of scandals, with notable figures such as Alex Rodriguez and Lance Armstrong falling from grace.
Athletes around the world fail thousands of drug tests each year, leading some to argue that the current structure, with a poorly funded global anti-doping agency, has failed as well. Some say certain drugs that don't pose health risks should be allowed in sports to direct resources to the most serious offenses. Others argue that more resources are needed to clean up competition. 
Almost everyone is looking for an edge. It will take more than whistleblowers to change the culture of modern athletics. 
Before it's here, it's on the Bloomberg Terminal.
LEARN MORE