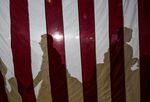 Partisan conflict among U.S. political leaders in 2016 is higher than any election year since at least 1984, offering another hurdle for the economy seven years after the last recession.
The Philadelphia Federal Reserve's Partisan Conflict Index, which measures the frequency of major-newspaper articles that report disagreement among politicians at the federal level, has trended noticeably higher during the last two presidential contests. The prior seven cycles showed relatively similar levels from January through December of the election year, forming a mess of lines below the two standouts, as the chart below shows.

While the regional bank notes that the index typically is elevated close to elections, the especially heightened uncertainty in this election year bodes ill for economic growth. 
"Such uncertainty has been shown to slow economic activity by delaying business investment and consumer spending," according to the Philadelphia Fed's data release. 
The political discontent adds more pressure to economic growth that's already been a huge disappointment this year. The U.S. economy expanded in the second quarter at a 1.2 percent pace — not even half as fast as the median forecast in the Bloomberg survey and barely ahead of the 0.8 percent pace in the first three months of the year. Economists are projecting 1.6 percent growth for the full year, which would make 2016 the weakest performance in half a decade.