Let the Market 'Truly' Decide Yuan Rate, PBOC Adviser Huang Says
Bloomberg News
Large amount of foreign reserves can be a strong backup

More hedging products can help smooth market volatility: Huang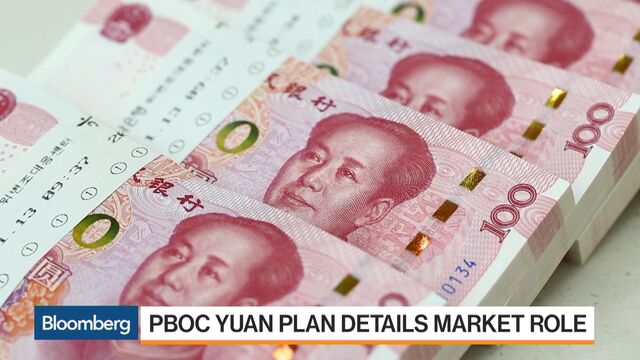 People's Bank of China adviser Huang Yiping said the market should be allowed to "truly" decide the yuan's central parity rate as authorities continue reforms of currency policy.
The central bank also should continue to widen the yuan's trading band then ultimately scrap such limits, Huang said in an interview. China should reduce and then fully eliminate the monetary policy authority's trading in the foreign-exchange market, said Huang, a Peking University professor who doesn't set policy at the PBOC.
Huang's comments came a year after China's sudden devaluation of its currency roiled global markets. Reforms since then have seen the yuan become more market-based.
"A more flexible floating exchange-rate regime can be expected in the coming years," Huang said in a written exchange with Bloomberg News. Following reforms last year of the yuan's pricing mechanism, the currency's flexibility has improved apparently without triggering any instability in global markets, he noted.
Improving the floating rate yuan regime would require innovation, Huang said, such as "more hedging products to help market players smooth volatility." As a member of the central bank's monetary policy committee, an advisory body led by PBOC governor Zhou Xiaochuan, Huang doesn't have a direct policy-setting role in the central bank. 

Still, flexibility in two-way movement of the yuan was also emphasized in the central bank's annual yuan internationalization report. China will give markets a greater role in deciding the exchange rate while keeping the currency basically stable at an equilibrium level, according to the report.
Slowing global growth may weigh on China's expansion, and cross-border capital flows may deal a more direct blow and pose a challenge to setting monetary policy, he said. Having a $3.2 trillion currency stockpile, the world's largest, provides a buffer.
"The large amount of foreign reserves can be a strong backup," Huang said. "The ability to accept greater volatility is necessary for a country moving toward opening up."
— With assistance by Ran Li, and Yinan Zhao
Before it's here, it's on the Bloomberg Terminal.
LEARN MORE