Japan's Impossible Position Has Top Aussie Manager Keeping Clear
by
Magellan's Douglass says 'little evidence' Abe policy working

More immigration, labor market changes needed to stoke growth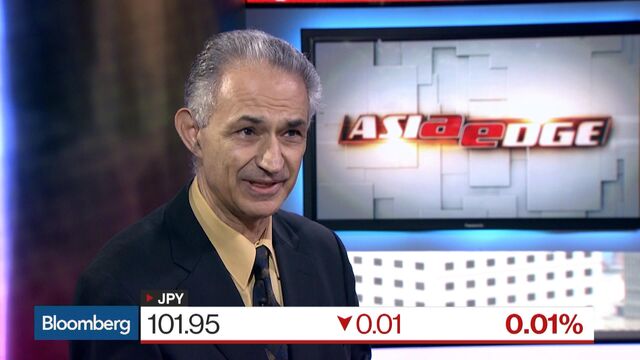 Japan's sluggish economy is stuck in an "almost impossible position" and those betting on a recovery any time soon will be disappointed, according to Australia's best-performing global share fund manager.
Hamish Douglass, who oversees A$39.4 billion ($30 billion) at Sydney-based Magellan Financial Group, said he's steering clear of companies with large exposures to the world's third-biggest economy as there's "little evidence" that Prime Minister Shinzo Abe's stimulus measures are working. The country needs to make changes to its labor market and welcome new migrants to offset the effects of an ageing population, he said.
While Abe came to office almost four years ago seeking to drag Japan out of a deflationary funk and bolster an economy that's grown only tepidly over several decades, the nation continues to struggle. Additional easing by the Bank of Japan and a fresh round of fiscal stimulus have been announced in the past month, although some analysts doubt these measures will alter the trajectory of an economy that's seen continued contractions in gross domestic product and failed to come anywhere near its 2 percent inflation target.
"Investing in something that is going to be a bet on inflation and improved GDP positions in Japan -- we just think that the risks around that story are too high," Douglass said in a telephone interview on Thursday.
While Douglass is happy to own stocks that have some exposure to Japan, such as Google-owner Alphabet Inc. and fastfood giant McDonald's Corp., he reckons the potential reward offered by owning Japanese equities isn't worth the risk involved in holding them.
"We're happy bystanders," he said.
Best Manager
Magellan is the best-performing global equity fund manager in Australia over the past half decade among those ranked by Morningstar Inc., delivering an average annual return of 21 percent in the five years through June.
The company, which counts tech giants iPhone manufacturer Apple Inc. and software maker Microsoft Corp among its funds' biggest holdings, posted operating income of A$198.4 million ($153 million) in the 12 months through June, while assets under management climbed 27 percent.
The company is looking to launch three global equities funds over the next 12 to 18 months, and is hunting for new distribution and compliance staff in Australia and U.S. as it expands its business, Douglass said.
Before it's here, it's on the Bloomberg Terminal.
LEARN MORE