markets
Emerging Stocks Extend Rally as Earnings Buttress Stimulus Bets
By and
Equities post longest run of weekly gains since March 2014

Malaysian bonds rise as slowdown increases chances of easing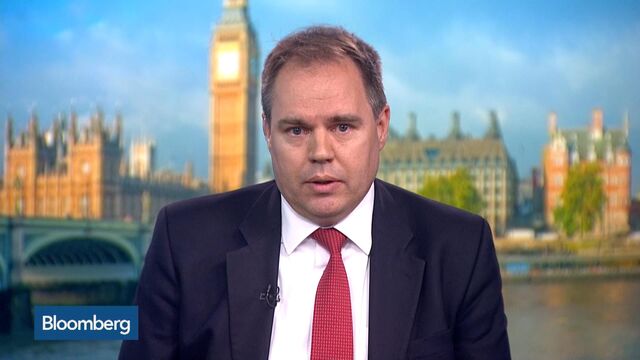 Emerging-market stocks posted the longest streak of weekly gains since Russia's Crimean invasion ended a similar run in March 2014, on signs corporate earnings are recovering as central banks extend measures to support economic growth.
Chinese shares rallied the most in a month as property companies advanced on speculation merger deals will accelerate. Hungary led gains in eastern Europe as the nation's economy grew more than forecast. Malaysian bonds climbed as an economic slowdown boosted the case for additional stimulus. Russia's ruble pared its weekly increase as tensions flared up in Ukraine.

Developing-nation assets are trading near one-year highs as investors bet the Federal Reserve will refrain from raising interest rates this year and the earnings outlook is rebounding from a five-year decline. As many as 458 of the 672 companies listed on the MSCI Emerging Markets Index have reported profits for the latest quarter and 54 percent of them beat estimates. Analysts have raised earnings forecasts in the next 12 months to an average $72.24 per share, the highest in eight months.
"There's some degree of optimism on emerging markets as fears of a slowdown in China and elsewhere have now dissipated," said William Jackson, a London-based economist at Capital Economics Ltd. "The external environment is quite benign, with the Federal Reserve keeping interest rates lower for longer and prospects for additional easing from other major central banks providing further support."
Traders see a 42 percent chance that the Fed will raise interest rates this year, futures trading data show, down from 49 percent on Thursday.
Stocks
The MSCI Emerging Markets Index climbed 0.3 percent to 910.08, extending its fifth weekly advance to 2.8 percent.
Chinese stocks rose as stake purchases by China Evergrande Group fueled optimism the pace of merger activity in the property industry will accelerate. The Shanghai Composite Index closed 1.6 percent higher and a gauge of real estate companies increased 4.7 percent, the most since March 2.
The BUX Index in Budapest gained for a fourth day this week, adding 1.1 percent. The economy grew 2.6 percent from a year earlier in the second quarter, according to official data. The rebound was fueled by services, industrial output and agriculture.
Benchmark gauges in India and South Africa added at least 0.9 percent each.
Bonds
Malaysian government bonds due 2026 advanced, sending yields down for a fourth day. The nation's economy slowed for a fifth quarter, Bank Negara Malaysia said. Growth in 2016 is projected to be at the slowest pace in seven years amid falling oil income and weaker exports. The government is studying its capacity to add stimulus, with plans to be unveiled during the annual budget in October.
The premium investors demand to own emerging-market sovereign debt rather than U.S. Treasuries widened five basis points to 345, according to JPMorgan Chase & Co. indexes. The spread fell Thursday to the lowest level since June 2015.
The MSCI Emerging Markets Currency Index slipped 0.3 percent after closing on Wednesday at the highest level in 13 months.
Brazil's real fell 1.5 percent after the central bank intervened amid comments by acting President Michel Temer that signaled he's worried about the currency's world-beating rally this year.
The ruble weakened 0.7 percent to 64.75 per dollar. While Russia's currency bucked a drop in crude oil this quarter as investors seeking higher returns poured cash into emerging markets, the possibility that the Ukraine crisis will escalate threatens to halt the currency's recovery.
Before it's here, it's on the Bloomberg Terminal.
LEARN MORE