China's Stability Falters as Factory Output, Credit Growth Slow
Bloomberg News
Retail, investment, factory output all miss analyst forecasts

Aggregate financing, new loans rise at slowest pace in 2 years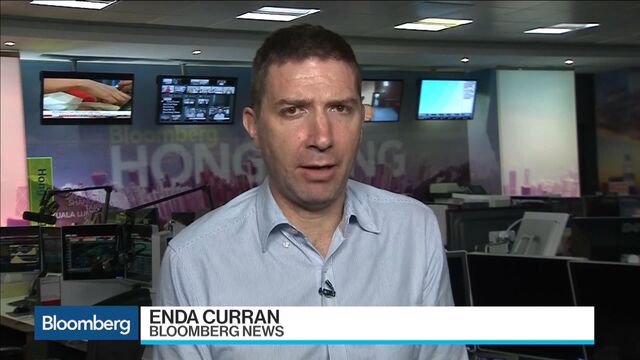 China's recent economic stabilization faltered in July as factory output, retail sales and investment all slowed, while the broadest measure of new credit rose the least in two years.
All main indicators released Friday missed economist estimates in Bloomberg surveys:
Industrial production rose 6 percent in July from a year earlier, less than the projected 6.2 percent gain
Retail sales climbed 10.2 percent last month versus the estimate for 10.5 percent
Fixed-asset investment increased 8.1 percent in the first seven months of the year, compared with a projection for 8.9 percent growth
Aggregate financing was a two-year low of 487.9 billion yuan ($73.4 billion) in July, less than half of the median estimate of 1 trillion yuan in Bloomberg's survey
New yuan loans stood at 463.6 billion yuan, also the slowest pace since July 2014 and less than the projected 850 billion yuan increase
The broad M2 money supply rose 10.2 percent, the weakest gain since April 2015


"With this downward trend it's hard to meet the government's 6.5 percent minimum target," said Wang Tao, chief China economist at UBS Group AG in Hong Kong, adding that policy makers are now concerned about rising leverage. "If this slowdown becomes sharper, the government will switch back to prioritizing stabilizing growth."

Policy makers face a choice: boost demand with cheap credit that risks undermining financial stability, or curb debt expansion even if that slows the economy. Friday's data suggests the second option is being pursued for now. With tepid global demand and domestic businesses reluctant to invest, the government has increased fiscal support this year, even as it held off from further benchmark interest-rate reductions.
The yield on China's benchmark 10-year government bond dropped to 2.665 percent, the lowest since 2006, after the People's Bank of China released the money supply data.
Underscoring the economy's dependence on a property market recovery, long-term loans to households -- the majority of which are mortgages -- increased more than the total new bank loans in July for the first time since 2007.
Property development investment in the first seven months of the year rose 5.3 percent, while the value of property sales during the period soared 39.8 percent, the National Bureau of Statistics said. Home sales value rose 41.2 percent while new property construction increased 13.7 percent.
Bloomberg's monthly gross domestic product tracker slipped to 6.94 percent in July, from 7.13 percent a month earlier. Economists expect the official growth pace, at 6.7 percent in the first and second quarters, will slow in the third quarter and again in the fourth.
"The real economy has weak demand for financing or investment, and banks are also tightening credit on risk concerns," said Liu Dongliang, a senior analyst at China Merchants Bank Co. in Shenzhen. "Things may turn even worse in the second half."

Friday's data will make investors worry about the outlook and expect more monetary loosening, according to Tommy Xie, an economist at OCBC Bank in Singapore.
"The new loans decline suggests that the investment demand in the real economy is still weak, and hasn't been pushed up by the easing measures earlier this year, which is quite worrisome," Xie said. "China will surely return to the center of global attention after today's weak activity data and the disappointing monetary data."
The PBOC has held the main interest rate at a record low since October. Policy makers reiterated in a statement last week that they plan to pursue prudent monetary policy. This week, the central bank offered more signals about its evolving monetary policy stance, flagging continued use of liquidity tools rather than further cuts to interest rates.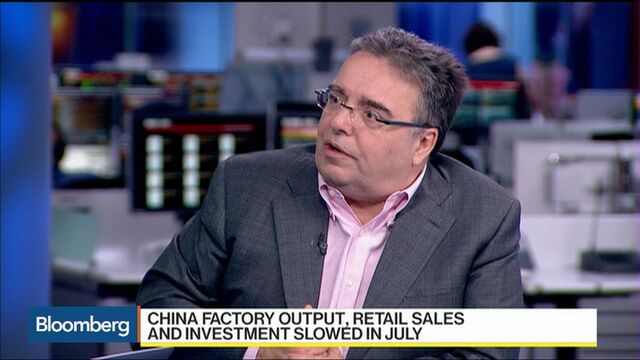 "Broad credit is still expanding at a faster pace than during most of the past couple of years, which should provide further support to economic activity for a while longer," Julian Evans-Pritchard, economist at Capital Economics in Singapore wrote in a note. "But with the People's Bank having refrained from further action in recent months, the impact of earlier monetary easing now appears to be waning with credit growth falling back as a result."
Other data released Friday showed electricity output jumped 7.2 percent in July, the fastest pace since late 2013, as more people switched on their air conditioning units for a reprieve from broiling summer heat. By industry, textiles and steel output remain sluggish, while car manufacturing was the outperformer with a 22.9 percent increase from a year earlier, the production data showed.
Reflecting the sluggish economic outlook, private businesses remain reluctant to invest, with state firms stepping in to prop up overall investment spending.
Watch Next: Asia Remains an Interesting Place to Invest, Says Elston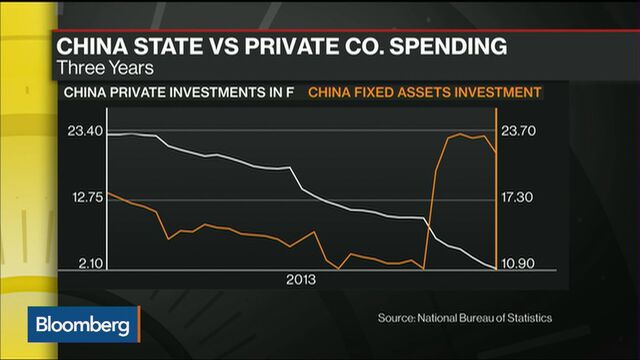 The retail report showed food, drink and tobacco spending slowed. E-commerce again showed its strength, as online sales increased 27.5 percent in the January - July period.

Reports earlier this week showed exports remained sluggish last month, signaling tepid global demand, while deteriorating imports raise concern domestic conditions may be weakening. Meantime, inflation remains well below the government's target, giving room for additional stimulus.
— With assistance by Xiaoqing Pi, Yinan Zhao, and Miao Han
Before it's here, it's on the Bloomberg Terminal.
LEARN MORE